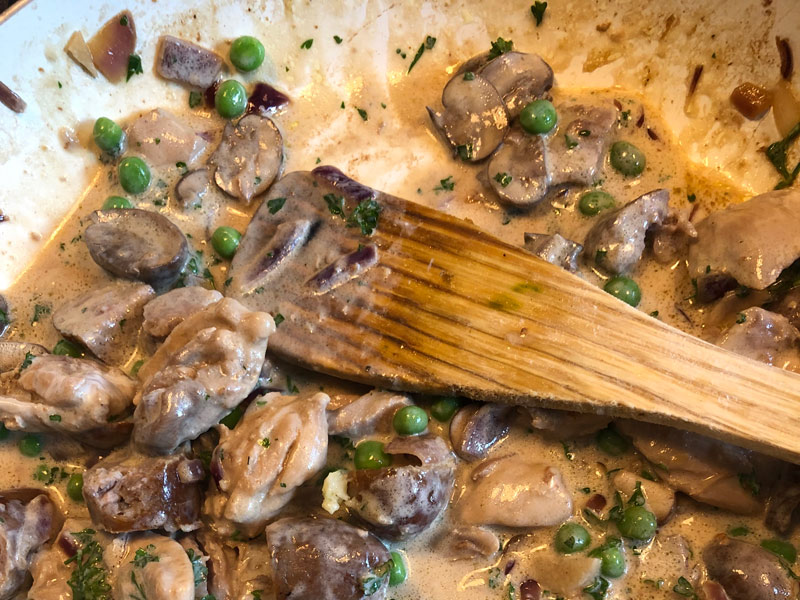 This speedy one-pan recipe is perfect for a sauce to throw over wholemeal pasta, spiralised courgetti, or with roasted veggies as I've done here.
When I want some comfort food I also love this creamy chicken served with mixed mashed potatoes… a base of white potatoes with lots of other veggies hidden inside – (one of my tips for getting more veggies into the kids) cauliflower, swede and courgettes work well!
I'm all about quick healthy meals for the whole family that you can make in under 20 minutes, and this one definitely ticks all those boxes.  It's packed with protein and uses chicken thighs, which are often cheaper and may also be richer in iron due to the meat being darker.  I often buy chicken thighs so that I can afford to go totally organic.
If you don't have fresh thyme use dried.  I also love to sautee some spinach to go with this – you can even throw in the spinach into the same pan and stir through to heat.
One Pan Creamy Chicken & Mushroom recipe 
Ingredients: Serves 4
1 teaspoon of olive oil
4 to 6 chicken thighs… depending on how hungry you are or your portion size needs
1 red onion
2 garlic cloves
2 big handfuls of button mushrooms or chestnut mushrooms
250ml chicken stock (I used 1/2 stock cube – you can also use fresh stock)
2 tablespoons of Brandy (if you have kids – you can still use a little brandy for flavour because the alcohol is burnt off by cooking and it just adds flavour, but if you're concerned just leave it out).
1 handful chopped fresh parsley
1 sprig of fresh thyme
3 tablespoons of runny plain yoghurt (use coconut or soya if dairy free)
Large handful of frozen peas
Directions:
Heat the oil in a frying pan. Add the chicken and fry for about 8 to 10 mins until cooked through. Remove and set aside.
Then in the same pan add the onions and garlic, using the fat released from the chicken. Allow to sauté for 2 to 3 mins until the onions are going translucent. Then add the mushrooms and fry until golden brown.
Add the brandy and sauté for 2 minutes (to allow the alcohol to burn off a bit and the flavour to simmer). Then add the stock to the pan and bring to the boil, before adding the chicken again. Stir well and allow to bubble for around 8 minutes. Season with salt and pepper.
Stir in the parsley and frozen peas and allow to heat through.
Take off the heat and stir in the plain yoghurt. You can also use creme fraiche if you don't have yoghurt.
Check the seasoning – adding more salt and pepper if needed.
Serve with some roasted vegetables, spiralised courgette, brown rice or mash!