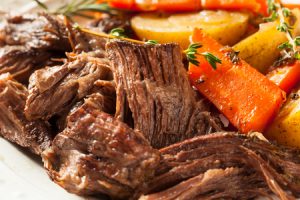 There's nothing more comforting than a slow cooked stew. Get it all ready, turn on the slow cooker, go out for a long walk in the cold and then come home to a house full of delicious smells and a gorgeous, hot and healthy meal ready and waiting. Yum!
Ingredients:
1 teaspoon flour (I use Gluten Free)
400g organic or grass fed diced beef (you're going to slow cook it, so it doesn't need to be an expensive cut)
1 tablespoon olive oil
1 leeks – washed and sliced
1 stick celery – chopped
2 medium red onions – diced
3 garlic cloves – crushed or chopped
4 small or 2 large carrots – roughly chopped
1 parsnip or ½ butter nut squash – peeled and chopped roughly
1 Tin kidney beans (400g) – drained and rinsed
1 Tin tomatoes (400g)
2 tins chicken or beef stock (use the kidney bin tin – or roughly 600ml of stock. Preferably fresh stock, or use a stock cube)
1 tbspn fresh chopped rosemary (or 1 teaspoo dried)
1 Pinch all spice
1 cup red wine
Salt and pepper
Put the flour on the beef and mix well. Heat the olive oil in a large frying pan and gently fry the beef until brown. Place the beef in a slow cooker. Then add the leeks, celery, onions and garlic into the beef juices and stir, gently fry until soft (about 4 minutes). Add to slow cooker. You don't have to fry the beef and veg first, you can just put in the slow cooker, but it gives a better flavour.
Put everything else into the slow cooker as well, and stir well. Put on the lid, and allow to bubble away on a low setting for around 5 to 6 hours, or on a higher setting for faster cooking for 2 to 3 hours. Check the beef is nice and tender – it should just fall apart and not be at all chewy. The lower and slower you cook it the better.
Serve with creamy mashed potato and some steamed broccoli on top.