Many of you know I absolutely love my slow cooker.  When I'm busy and want a delicious meal for me and the family ready and waiting for when I get home, a slow cooker is my best friend!  Yes things can go a little bit mushy in there, but I find when you put in your grains to cook all together, you end up with such a delicious bowl of goodness that nobody cares.  
This Slow Cooker Chicken Quinoa stew is the perfect example.  It's packed with protein, veggies and immune boosting herbs and spices.  It contains some of my favourite ingredients – things I really like to label superfoods – but also cheap and easy ingredients that many of you probably already have in your cupboards.  If you don't have any quinoa, you could also use brown rice instead. 
This recipe is super quick, and you can basically chuck it all in the slow cooker, turn it on, have a cuppa and read your favourite book and wait for the magic to happen!
The benefits of using a slow cooker
Firstly it's one of the cheapest ovens you can buy –  available in most supermarkets for around £20 to £30. As a busy working Mum I often use it to make my life easier, throwing something in the morning before I go to work and leaving it on low, and getting home to delicious smells and an amazing hot dinner.   It's great for cheaper more tough cuts of meat, really helping to break everything down and soften the meat.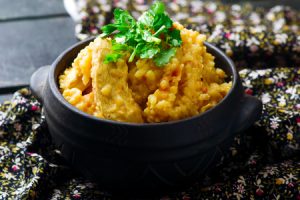 In an ideal world, we might not be cooking our veggies for quite so long.  This may reduce some of the nutrient value, particularly the water-soluble ones such as Vitamin C and B vitamins.  However, some nutrients will be better released from this slow cooking process, helping to break down cells walls and release the goodness inside.  Also I find my kids love a slow cooked meal because it's easy to eat for them, soft on the palate and more difficult to pick out the bits they think they don't like!
I think a slow cooker is a brilliant investment for any busy household, especially during the winter months when you want plenty of ready cooked, but warming hearty meals.  I also use mine to make bone broth (stock), home made baked beans (much yummier and low in sugar), super tasty beany beef bolognaise (from my How to get your Kids to Live to 100 course) and slow cooked organic meat, especially lamb. We also love a beef stew done in the slow cooker. 
Why add pulses to a chicken stew?
I'm always trying to find ways to add extra beans and pulses into my meals.  The fact is that research has shown that this cheap and high protein, high fibre and nutrient dense food group appears on the menus of some of the longest living people on the planet, and may also help to reduce our risk of heart disease. Beans and pulses are also really cheap!  
I know some people's digestive systems don't do so well with too many beans and pulses, and if we eat too many, we know about it!  (The house gets too smelly if you know what I mean).  But if you're alright with legumes and beans, then use them regularly to help support longevity.
I also use plant protein so that I don't have to pack in so much meat to fill up my kids, who are getting hungrier by the year it seems!  By adding in cheap plant protein, I can then buy better quality organic meat, which unfortunately has a higher price tag.
So here's my favourite slow cooked recipe… what do you love to cook in your slow cooker?
Recipe:  Slow cooker Chicken Quinoa Root Veg Stew (serves 4 to 6)
Ingredients:
1 tbspn olive oil or coconut oil
1 medium onion, finely chopped
1 stick celery, finely chopped
3 garlic cloves, finely chopped or crushes
2 large organic or free range chicken breasts
1 tin of chickpeas, butter beans or kidney beans – rinsed and drained.
1 teaspoon of turmeric powder
1 teaspoon of ground cumin
1 teaspoon Garam Masala
1 teaspoon dried oregano
1 pinch of chilli flakes (optional – if you like it hot)
Ground black pepper – good pinch
¼ teaspoon sea salt
Any root veg you want to use up – I use 1 carrot roughly chopped and about half a butter nut squash
¾ cup (about 120g) of uncooked quinoa (you could use brown rice if you don't have quinoa)
1 tin of chopped tomatoes
600ml of chicken or vegetable stock (fresh if you can get it, or leftover bone broth – if not use a cube)
1 to 2 cups of water as needed.
Directions:
In a medium sauce pan, heat the oil and then add the celery and onion.  Sautee until soft, then add the garlic for a couple of minutes.
Chop the chicken breasts into fairly large cubes (around an inch cubed).
Put all the ingredients into the slow cooker, stir well.
Allow to cook for around 2 to 3 hours on high, or around 5 hours on low.
Check the seasoning and that the chicken is cooked.  You can add in a handful of fresh parsley on top for freshness, and a dollop of plain natural yoghurt when you serve!
Enjoy!  And keep any leftovers for lunch the next day or freeze for a later date!