Being a vegetarian or vegan can have many health benefits, not to mention the potential benefits to the planet and animal welfare.
Unfortunately I see a lot of unhealthy vegetarians and vegans in my private practice, which is why I designed my course, How to Be a Healthy Vegetarian or Vegan, which is now available online.
The problems I come across in my clinic are not because being a vegetarian or vegan is an unhealthy way of eating… but mostly because these people haven't properly planned their diet and included all the nutrients needed for optimum health.  It's the same for any diet, whether you eat meat or not… if you don't plan your meals well, be mindful of what you're eating and strive to eat as well as you can 80 to 90% of the time, then you're leaving yourself at risk from nutrient deficiencies and potential health problems, irrespective of whether you eat meat or not.
I know from first-hand experience…
Not only from the work with my vegetarian and vegan clients.  From the ages of 12 to 23 I was a vegetarian, but I was a "cheese on toast vegetarian" a lot of the time, especially after I left home.  Unfortunately I developed a very serious inflammatory bowel condition, which I now know in hindsight was exacerbated by a lack of protein in my diet and poor intake of nutrients, combined with burning the candle at both ends and a typical student lifestyle!  Thankfully, I no longer have inflammatory bowel problems and my digestive system is in pretty good shape!
What to eat on a vegetarian and vegan diet: When it comes to a plant based diet, here are some of my top tips to help make sure you give your body all the nutrients it needs.  Even if you don't want to cut meat or fish out of your diet completely you can still learn a lot from these top tips to boost your nutrient intake and help you feel fantastic.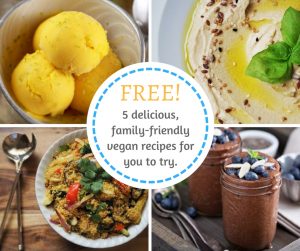 Are you curious about the benefits of a vegetarian or vegan lifestyle? If you fancy trying out a few meat-free meals before making a proper commitment I have the perfect way to dip your proverbial toe into a plant-based diet. Sign up for my totally FREE Plant Power 5-day Challenge and I'll send you the first recipe straight away!
Yes please! Send me the recipes. 
Top Tips to be a Healthy Vegetarian or Vegan
Tip 1 Vegetarian and Vegan Protein:
If you're going vegetarian or vegan, you might be surprised to learn that it's actually easy to get enough protein in your diet.  But my biggest tip is to avoid artificial proteins such as fake meats.  They are often full of nasty ingredients that you don't want to include on a regular basis.  Instead get used to cooking with beans, pulses, tofu, quinoa, nuts, seeds, mushrooms and other naturally protein rich ingredients.
Tip 2 Don't forget about B12
If you're a vegan, you must make sure that you get enough Vitamin B12 in your diet.  As a vegetarian, you'll be able to get Vitamin B12 from dairy, but it depends how much you include as to whether you'll need to supplement extra.
For vegans, you'll either need to be looking at fortified foods with Vitamin B12 every day, or you need to take a daily supplement.  If you become B12 deficient long term, your health may be seriously at risk.
If you're concerned about your B12 levels, you can ask your GP to have them checked.  Or speak to a nutrition practitioner such as myself who will be able to organise this for you.
Tip 3:  Don't overdo the dried fruit!
Yes it's packed with iron, zinc and other minerals, and better than eating sweets.  But remember it's also very high in sugar.  Stick to a few pieces of dried fruit per day, no more.  I see so many veggie and vegan recipes with several hundred grams of dried fruit, and these should only be eaten as a treat, not an everyday thing.
Tip 4:  Embrace blackstrap molasses as a sweet alternative!
One of my favourite vegan and veggie superfoods is blackstrap molasses. (I talk about it quite a lot in my How to be a Healthy Vegetarian or Vegan course!) It's packed with iron and calcium, but make sure you get blackstrap molasses instead of black treacle, as it's less refined and more nutrient dense.
What is blackstrap molasses I hear you say?  It's all the goodness taken out of sugar cane when this plant is refined into white sugar.  It's packed with nutrients and gives a rich, caramel flavour to recipes and food.  Don't use too much, as it's quite strong!  Drizzle half a teaspoon on your porridge or a smoothie, or use it in baking.  I love the Biona brand which is available in health food stores.
Tip 5: Get in fresh green herbs for iron and calcium!
It's gone a bit out of fashion to throw parsley all over your food… but this amazing little herb is packed with calcium and iron, as well as Vitamin C to support absorption of minerals.  In fact, fresh green herbs are a brilliant way to add nutrients to your food, and they're also really easy to grow on any windowsill or a pot in your back garden, however tiny.  I love to make my own pesto with basil, parsley, kale or spinach, pumpkin seeds, garlic, olive oil and pine nuts.  Or chop up a load of mint and parsley and stir into brown rice or quinoa after cooking.  Packed with flavour, packed with goodness!
If you'd like to find out more and want expert guidance and help, why not purchase my online course How to Be a Healthy Vegetarian or Vegan. It has 10 video modules, downloadable guides and over 30 recipes which are adaptable and flexible – perfect for newcomers to vegetarianism or veganism or those already embracing the diet and wanting some more ideas for their health and meal planning.