Following a vegetarian or vegan diet has never been more popular. But can you really eat an exciting, nutrient packed, healthy, well rounded and (most importantly) totally delicious diet through just plants alone?
Yes you can!
How to be a Healthy Vegetarian or Vegan is online course that shows you how to plan, prepare and enjoy a healthy, nutritious and delicious vegetarian or vegan diet. Whether you're looking to transition to a totally meat-free lifestyle or simply want to add more plant-based meals to your weekly menu, this 10-module course is packed with useful advice, tips and recipes that transform the way you eat forever.
Hands up if any of this sounds familiar…
You're keen to add more veggies to your meals but you don't know where to begin…
You're not sure how to prep and cook veggies for the ultimate taste bud experience.
You're worried everything you cook will end up bland and tasteless.
You're concerned that your children will take one look and run screaming for the nearest Pizza Hut!
Perhaps you're already a committed vegetarian or vegan but you're stuck in a rut of preparing and eating the same meals over and over.
So what if I promised you this… it is TOTALLY possible to eat a varied, nutrition-packed, healthy and delicious diet made up of just plants.
I'll show you how.
I've  distilled my knowledge from thousands of hours of professional training, hundreds of clients and years of personal experience into 10 packed modules, printables and over 30 easy-to-make recipes. When you sign up you'll get instant access for life, so everytime I make an update or add another recipe, you'll be the first to know.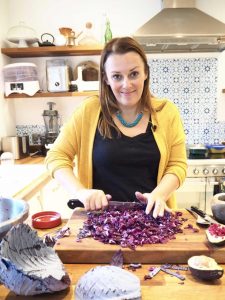 Done right, a vegetarian or vegan diet can deliver life changing benefits to your health and well being.
Whether you're new to vegetarianism or veganism or an experienced plant-based foodie, this course will empower you to always include the right nutrients into your diet. With over 30 simple to follow recipes, audio modules for listening on the go and downloadable, print-ready pdf's for the kitchen to help keep you on track. It's about eating well for life and enjoying tasty, nutritious plant-based foods everyday.
Why do I need to learn about being a healthy veggie or vegan? Surely it's kinda obvious?
Well yes and no… Eating a vegetarian or vegan diet isn't always healthy! White bread, pasta, oven chips and sugar saturated granola are all vegan-friendly foods. And vegan cakes, cookies and pies can contain just as much fat and sugar (and artificial ingredients), as their butter and cream-laden counterparts.
Being vegan or vegetarian CAN have many benefits for your health, but this is dependant on eating the right foods and replacing any nutrients no longer in your diet. It's important if you or a family member avoid meat, fish or dairy, that you learn how to be a healthy vegetarian or vegan and get the right kind of advice to protect your short and long term health. I see many unhealthy vegetarians or vegans in my clinic, simply because they have not thought through or carefully planned their diet, to ensure they are not missing out on vital nutrients – particularly proteins, vitamin B12 and iron –  deficiencies of which can cause many serious health problems.
Whatever diet you choose in life, it's vital to get a healthy balance of nutrients.
When you invest in How to be a Healthy Vegetarian or Vegan you'll get all this…
10 easy to follow video modules covering all your nutrition needs, from protein to iron and how to get enough in your diet
Filming from my kitchen to you can see just how easy it is to follow
3 Bonus chapters about supplements, vegan superfoods and keeping your gut healthy
Full audio versions for easy listening on the go
Over 30 downloadable recipes covering breakfast, lunch, dinner, snacks and drinks
Downloadable PDF's for your fridge so you can keep on track
Daily check list so you can monitor your nutrient intake
The Healthy Vegetarian or Vegan Facebook group: This part of the course is totally invaluable.. Not only will you become part of a community of like minded individuals, searching for practical guidance and feedback on how to eat well with plants.. You'll also get access to me… I will be answering any questions you have, giving you motivational tips and providing you with new recipes and chapters.