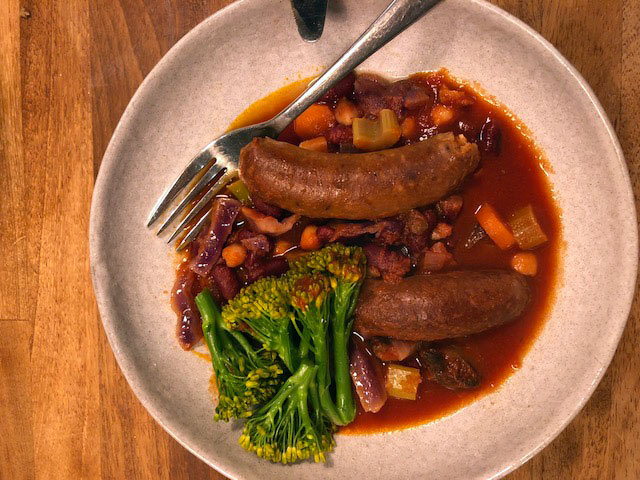 This month I've been challenging the members of my Eat Well for Life Weight Loss Membership group to eat a rainbow.
They've had 7 days to see if they can eat over 30 different plant foods, including beans, pulses, nuts, seeds, vegetables, whole grains and fruit.
This recipe is inspired by their rainbow challenge and to help you and your family to eat a rainbow of different colours in a quick and simple way – all in one pan, I love it!
Why do we need to eat a rainbow of vegetables and plant foods? 
Eating lots of variety and different coloured plant foods is really important for our health.  Unfortunately, so many of us stick to just the same foods, day in day out, because it's easy… and in the UK, a lot of those foods tend to be brown, refined and starchy.
Research has shown us that the key to good health is the number of plants we pack into our diet, and that means lots of variety each and every day.  This doesn't mean that we all have to go vegetarian or vegan, but it does certainly mean that we all need to eat more plants, each and every day, of all different types.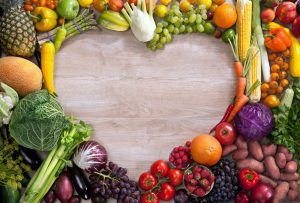 Why vegetables are good for us?:
Plants help us to live longer… fact.
Variety helps to support our gut microbiome… fact.
Our gut microbiome is important for our immunity… fact.
So why don't you set yourself a challenge to eat at least 30 different plant foods over the next 7 days.  Can you achieve the Rainbow challenge?  Let me know over on my Instagram and Facebook pages now.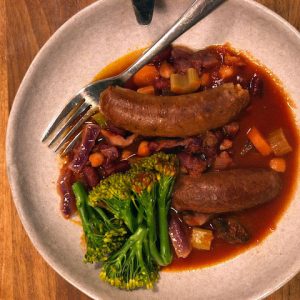 Print Recipe
Immunity Boosting Sausage and Vegetable Hot Pot
This delicious recipe includes a tonne of vegetables, perfect for building your immunity in the winter months.
Equipment
Slow/Pressure Cooker (or Oven Proof Dish)
Ingredients
10

good quality organic sausages

3

sticks of celery

,

chopped

1

red onion

,

finely chopped

3

carrots

,

washed/peeled and chopped

2

garlic cloves

,

crushed

⅓

red cabbage

,

finely chopped

1

can

chickpeas

,

drained and rinsed

1

can

kidney beans

,

drained and rinsed

6

chestnut mushrooms

,

halved

1

bottle

organic passata

,

(690g bottle)

250

ml

warm water

,

(I fill up the passata bottle again)

½

organic stock cube

1

tsp

smoked paprika

salt and pepper to season

1

small head broccoli
Instructions
Put the sausages under the grill – cook until brown on both sides. 

Put some olive oil in small frying pan - sauté the sliced celery and onion until translucent.  Add the garlic and stir for a minute.  Remove from heat and add to the slow cooker.  

Put all other ingredients into the slow cooker, except for the broccoli. 

Add the tomato passata and then fill the empty bottle again with water and add this.

Crumble in the stock cube and add the smoked paprika, plus a pinch of salt and pepper. Give it a good stir. 

Arrange the sausages on top so they are peaking out of the top.  

Put on low heat for 5 to 6 hours, high heat for 2 to 3 hours.

Check the seasoning, and add extra salt or pepper if needed – stir without pushing the sausages to the bottom.

For the last 15 minutes, lay the broccoli on top to let it heat through.  

Serve with mashed sweet potatoes or sweet potato wedges… or delicious on its own 
Notes
Substitutions: 
If you don't have a slow cooker, just use an oven proof dish and bake at a low heat (around 160C) for around 1 hour to 90 minutes.
You can use dried beans instead of tinned – just soak and boil them until they are cooked first.
You can use up any leftover veggies you have – a great way to use up any vegetables that need using up.  Courgettes, fennel, aubergine work well – plus parsnips, Swede and squash.
If you don't have passata, just use 2 tins of chopped tomatoes instead.
For vegans and veggies – you can use vegetarian sausages instead of meat ones. Or just omit the sausages for a protein rich veggie packed delicious meal!