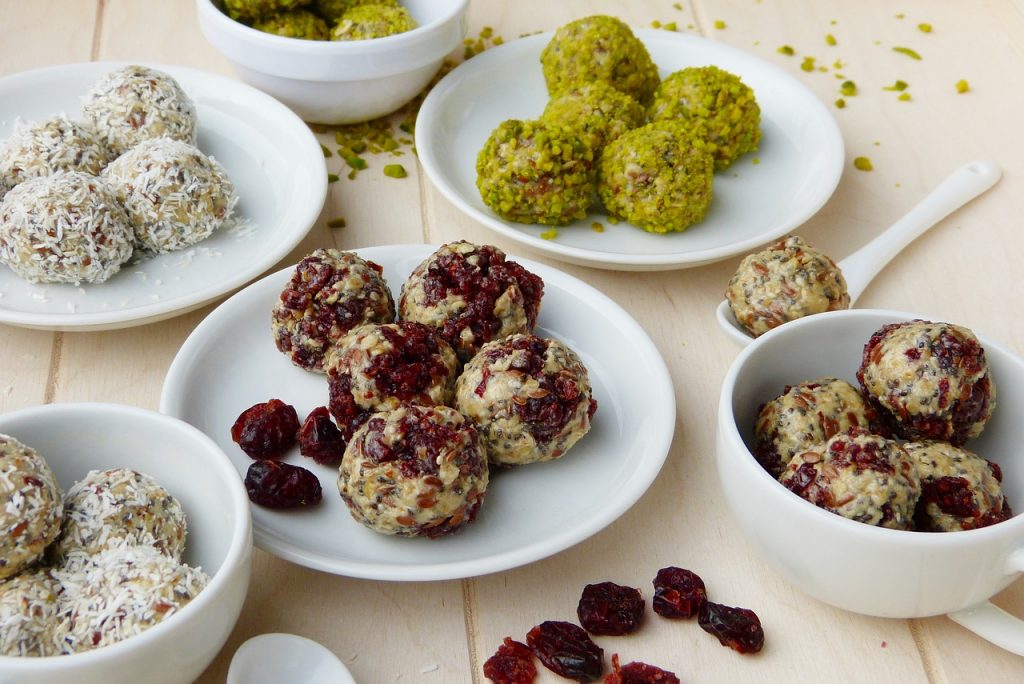 When you're in need of an instant pick-me-up, homemade energy balls are a great nutritional treat. Unlike store-bought convenience foods which are usually packed with sugar and other artificial nasties, energy balls are easy to make and store. Plus they're packed with healthy sources of slow-release energy.
Most energy balls require just a few ingredients and a blender to whip up and they store for a good week in the fridge. Make up a batch Sunday evening and you've got a week-long stash of healthy snacks ready to go. I've carefully crafted these recipes to make sure they are not too high in fruit sugar, as some energy balls can be very high in dates or other natural sugars.  
Energy balls are great for keeping the afternoon cravings at bay or to snack on after exercise.  My children also love them as an after school snack! They're also a great way to get my kids to eat nuts and seeds without them realising it! Make golf ball size ones for a snack, or marble sized ones for a little treat in the evening.
My energy balls are also quite low in dried fruit… as too much dried fruit is very high in sugar.  Yes, it's better than refined sugar, but you don't want to include too many dates or other dried fruits as these do still contain a lot of fruit sugar (not great for your teeth, waistline or your liver health).
Pear, cinnamon and almond energy balls
When it comes to energy ball recipes you can't beat pear, cinnamon and almonds – what a delicious combination! These fruity little treats make the perfect mid-morning, mid-afternoon or mid anytime snack.
Ingredients 
250g rolled oats
1 pear, sliced
120g almond butter
1 tablespoon of chia seeds
2 teaspoons of cinnamon
Ground almonds (for dusting)
1 tsp organic honey (optional)
Method
Place all the ingredients in a food processor and blitz. If the mixture looks a little wet, you can add in some more oats.
Try the mixture out, if you prefer yours a little sweeter, try adding some honey.
Roll the mixture into balls with your hands (or use an ice cream scoop), and dust with the ground almonds.
Set your energy balls in the fridge to chill for 30 minutes.
Choco protein balls
One of my favourite energy ball recipes. When you fancy an indulgent fudgy treat without the guilt, these tasty little snacks are the perfect solution!
Ingredients
1 tablespoon of peanut butter
1 teaspoon of maple syrup
1 tablespoon of coconut oil
2 tablespoons of ground almonds
1 heaped tablespoon of protein powder (I use vanilla Solgar Whey to Go, or Pulsin Chocolate Pea Protein)
1 heaped tablespoon of raw cocoa powder (or dark cocoa powder)
1 tablespoon of water – may need a little more
Method
Mix all the ingredients together in a bowl, until it forms a thick paste.  You may need a few drops of extra water.
Tip some unsweetened desiccated coconut on a plate, grab some of the paste, roll into a ball then roll in the coconut.
Put in the fridge to firm up. These are best stored in the fridge.
Healthy breakfast energy balls
When you're late for the school run and the kids are already clamouring for more food, these little balls are a fab way to keep then fuelled up 'til lunch time. They're also a great addition to packed lunch boxes.  For a nut free version, use hulled hemp seeds instead (eg the Linwoods brand).
Ingredients
125g rolled oats
1 tablespoon of coconut oil
2 ripe bananas, roughly chopped
3 tablespoons finely chopped hazelnuts
1 tablespoon of chia seeds
1 teaspoon of raw cocoa
Dark chocolate to coat (optional)
Method
Add all the ingredients to your food processor and pulse into a rough, slightly wet mixture.
Roll the mixture into balls and place in the fridge for 20 minutes to firm.
If you fancy making these a little extra special half dip them in melted dark chocolate. Whilst your energy balls are firming up in the fridge, melt a little dark chocolate in a bain marie or in the microwave, and carefully coat one side of each energy ball with chocolate before placing back in the fridge for another 10 minutes.
Do check out my recipe page for more healthy snacking inspiration!  Or sign up to my newsletter to receive my nourishing notes, packed with health tips and new recipes!