Imagine it's 7.00am, the alarm goes off, it's cold and dark outside and you need to start getting the kids ready for school or getting out the door for work.  Yet all you want to do is hit the snooze button and hide under the duvet!
During the winter months, it can be tough getting out of bed when it's still dark, but all the easier when you know you have a nourishing breakfast to look forward to.  
Embracing the colder months…
Just as we change our wardrobe in the colder months, it's nice to also embrace more warming foods at this time too, including at breakfast. According to Ayurvedic medicine adding warming spices during the winter months can help us stay healthy and keep us in balance, and is a great way to boost our immune systems. Any warm spice can be used individually but my personal favourite combinations include apple and cinnamon, carrot and ginger, pear and cardamom.
Why is a nourishing breakfast important?
Most of us know it's important to eat a healthy breakfast but try telling that to your kids who are having a morning meltdown and refusing to eat because "I'm not hungry" – I still remember these words uttered by my twins when they used to go on breakfast strike! Research shows that a healthy breakfast can help children perform better at school and gives them the energy they need to handle their busy days.
As parents we can help by making sure we balance breakfast with a good quality protein and carbohydrates for lasting fullness and energy as good nutrition can be key to their success in the classroom.
If you're looking for some breakfast inspo, here are 5 breakfast recipes to make sure you stay in balance, warm and cosy when you start your day whether it's a creamy bowl of warm porridge, to on-the-go flapjacks or healthy toast to brighten your mornings – I've got you covered!
Warm vanilla porridge with stewed apples
INGREDIENTS
50g porridge oats
2 apples
200ml almond milk (or cows' milk)
2 teaspoons of coconut sugar or a drizzle
of honey
1 teaspoon of cinnamon
1 teaspoon of vanilla extract
Optional toppings: Cacao nibs, chia jam, flaked almonds or any ground nuts or seeds
METHOD:
1.     Peel and core your apples and cut into bite size
pieces. Place in a saucepan and add a small amount of water (do not cover the apples). Add cinnamon/nutmeg/ginger stirring to combine. Cook for about 10 minutes, stirring occasionally, until the apples are soft and the juice is syrupy. Remove from the heat and set aside. (You can make a big batch and freeze in portions)
2.     Place the oats, almond milk, coconut sugar, cinnamon and vanilla extract in a saucepan over a medium heat. Cook for 5-10 minutes until everything comes together – you may want to add a dash more milk if the mixture becomes too thick
3.     Add the stewed apples and your choice of toppings
Fluffy Buckwheat Pancakes
INGREDIENTS
3 tbsp of melted coconut oil
120g buckwheat flour
1 egg
1 tsp baking powder
½ tsp salt
1 tsp vanilla essence
¾ tsp ground cardamon
300 ml Almond milk
METHOD:
1.      Blend all ingredients to make a batter
2.      Heat olive oil or coconut oil in a non-stick frying pan
3.      Add a ladle full of batter to make pancakes
4.      Cook for a couple of minutes each side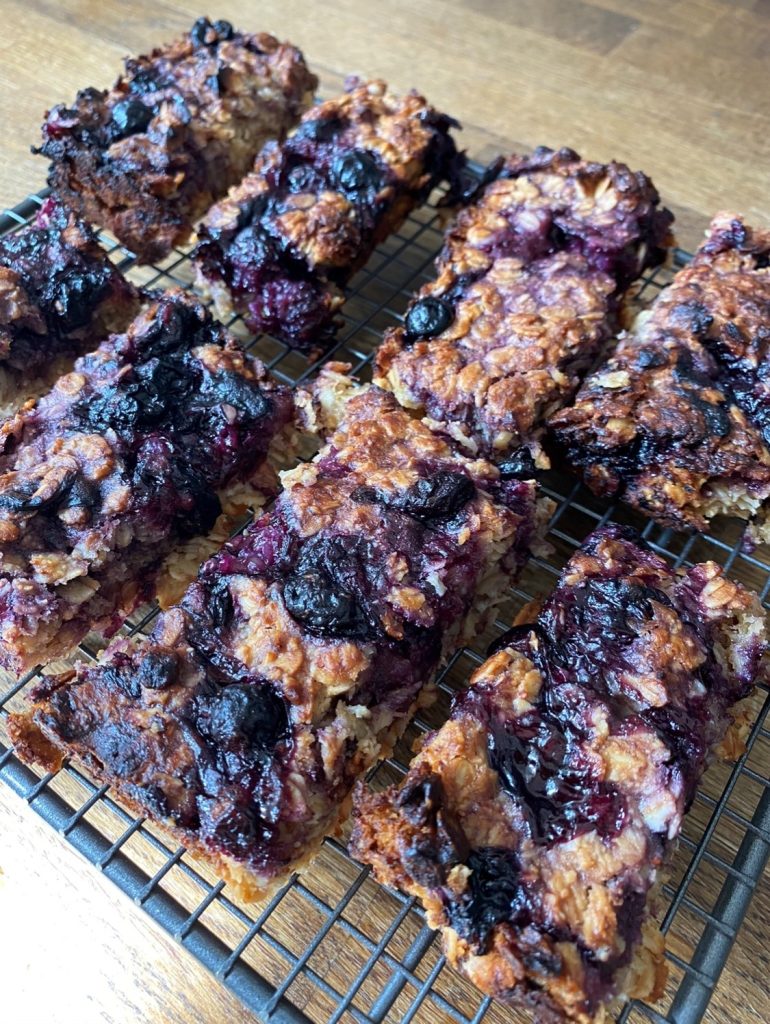 INGREDIENTS
120g coconut oil or butter
250g oats
1 ripe mashed banana
7 tbs honey or date syrup
200g blueberries
1 tbs nut butter
½ tsp ground cinnamon
METHOD
1.      Preheat oven to 180c/350F/Gas mark 4
2.      Line a 20 x 20 (8 x 8inch) baking tray with greaseproof paper.
3.      To make base, place the coconut oil and banana in a large saucepan on low heat for 5 minutes
4.      To make the blueberry compote, place the blueberries in a smaller saucepan on low heat for 5 minutes until soft
5.      Add your nut butter and honey to the base and stir while melting
6.      Mix the oats into your base mixture and blueberry compote and remove from the heat. Spread the mixture evenly over the baking tray ensuring some of the blueberries can be seen on top
7.      Pop in the oven for approximately 20 minutes. Leave to cool and then slice into squares
Simple poached egg with guacamole on toast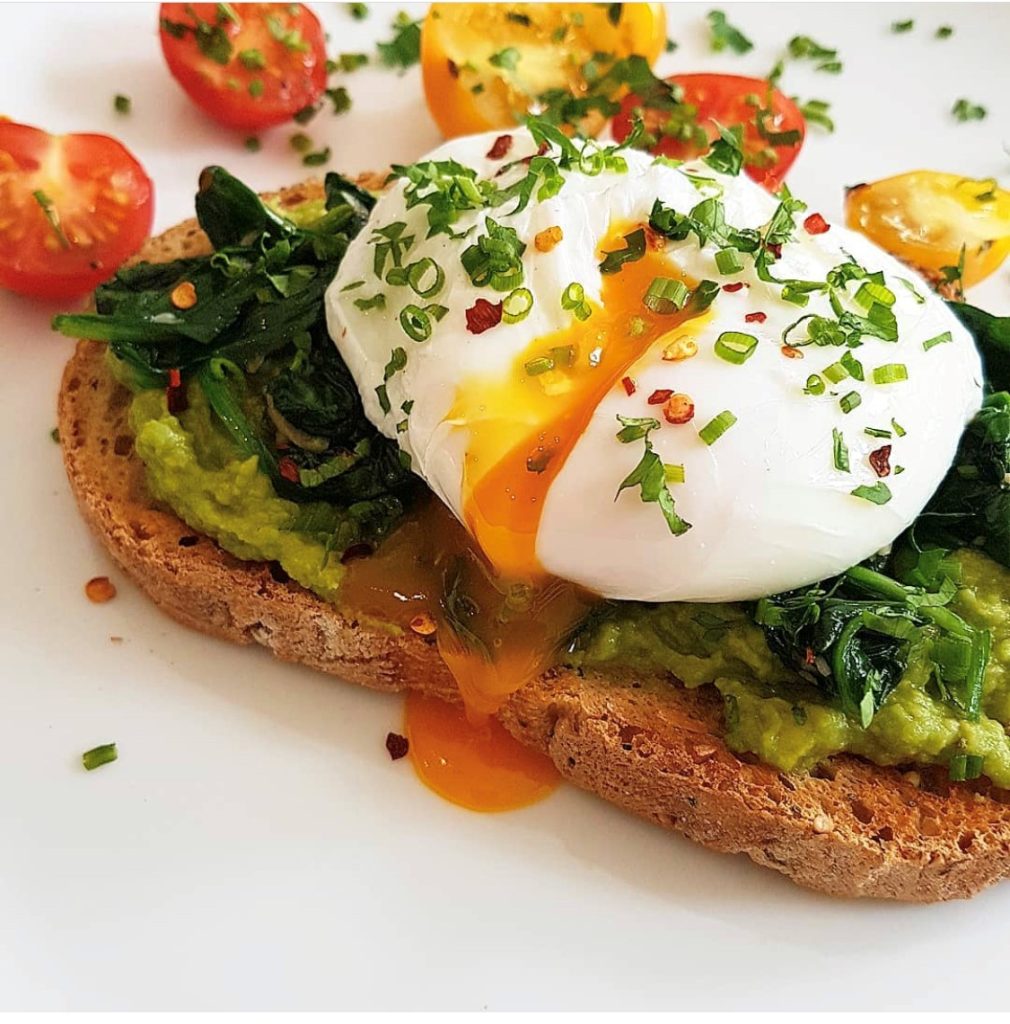 INGREDIENTS
1 ripe avocado, stoned, peeled and cubed
½ red onion, roughly chopped
2 crushed garlic cloves
2 tbsp coriander
2 tbsp lime juice
2 handfuls of spinach
2 slices sourdough bread, toasted or toasted sweet potato
1 large free range or organic egg
METHOD:
1.      Place the onion, 1 clove of garlic and coriander in a blender until finely diced
2.      Put the avocado and lime juice in a bowl and mash. Season with salt and stir in the onion, garlic and coriander
3.      Saute the spinach over a medium heat, add 1 clove of garlic and a drizzle of lemon juice
4.      Bring a pan of water to a gentle simmer then reduce the heat until the bubbling stops. Swirl the water gently then drop the egg in. Poach the egg gently between 3-4 minutes then remove with a slotted spoon
5.      Spread the guacamole on the toast, top with the sauteed spinach and place the poached egg on top
*To make sweet potato toast
– Preheat oven to 400F
– Slice the sweet potato into even slices, approximately ¼ to ½ inch thick, using a sharp knife
– Lightly oil both sides of the sweet potato slices, then place them on a baking sheet
– Bake for 30 minutes, or until cooked thoroughly and slightly toasted. Thicker slices may require more time to cook
Peanut butter and chia jam on sourdough toast
INGREDIENTS
2 slices of sourdough bread toasted
1 tbsp peanut butter or almond butter
Optional toppings: cacao nibs, chopped cashew nuts, raisins.  
For the jam
250g frozen raspberries or any frozen fruit
3 tbsp chia seeds
3 tbsp maple syrup
1 tbs fresh lemon juice
METHOD:
1.      First make the jam, heat fruit in saucepan over medium heat until fruit softens (approx. 5 minutes).
2.      Mash fruit using a folk or masher to desired consistency
3.      Stir in chia seeds, maple syrup and lemon juice
4.      Heat jam over low heat stirring for a further 5 minutes
5.      Take off heat and let cool
6.      Spread peanut butter on each slice of sourdough toast
7.      Spread the jam on top of the peanut butter
8.      Top the jam with banana slices and sprinkle with chia seeds. Alternatively add any other toppings of your choice
Blog credit:  Family Nutrition Expert Clinic Associate Gurjit Dhanjal.