In my experience, mindfulness can be a very powerful tool when it comes to digestion and our gut health. I've been talking a lot about mindfulness recently, both with my one to one clients and also on my courses. It's incredible how doing whatever you can to "empty your stress bucket" can have such a profound impact on your health, particularly on your gut and digestion. So I wanted to find out more about mindfulness and how it might help with your digestive health. So here's a special guest blog from Mindfulness Expert, Gemma Sandwell from The Happiness Branch. And if you want to see Gemma talk more about this, do check out her video below.
How are the gut and brain linked?
Have you seen the recent research calling the gut the "second brain?" How is it that we do so much of our neurological processing in our digestive system? And why is it that stress can have such a big impact on our second brain?
If we want to work on our digestive health, it's becoming increasingly clear that we need to work on both these "brains".

Gemma Sandwell, The Happiness Branch
Mindfulness can help us to do just this and support our stress response and how our bodies copes with stress. In fact, mindfulness techniques have been shown in research to increase the size of a part of our brain called the hippocampus, which enables us to be more resilient to stress as well as improve our memory. Mindfulness has also been shown to decrease the size of our amygdala – the amygdala is our "flight and fight centre" and is designed to protect us from harm. When we face something stressful or we feel anxious, this part of our brain reacts to fight or flight (run away from) the danger or freeze (maybe the tiger won't see me!)
Although the amygdala developed to protect us, the kind of things that cause us stress and anxiety nowadays are very unlikely to be life threatening – they won't be tigers (in maybe the rarest of cases!) or things you may have to run away from or fight. Yet your brain doesn't know the difference, so will react in a way that gets your body ready to fight or flight, releasing stress hormones which divert all your blood supply to where it thinks it's needed… to your legs and muscles, to your arms… and away from your digestive system. Without plentiful blood supply, your gut simply can't do it's job properly!
How to reduce stress to help your gut health
So what can we do to help reduce the effects of stress on our gut and be more to the things around us that cause us stress? Simply practicing a few minutes of Mindfulness each and every day can make a dramatic difference. When we practice Mindfulness we are training our brain to be more able to switch between focused and relaxed states. As described above, it can actually help to change the brain structures involved in fight or flight, stress resistance and memory.
"Simply practicing a few minutes of Mindfulness each and every day can make a dramatic difference."

Gemma Sandwell, Mindfulness Coach
Mindfulness is about paying attention in the present moment, non-judgementally. We may not always feel relaxed when we practice it, or we may notice how busy our minds are, but this is all part of the process. As we train the brain to switch focus, when we need to be more alert and focused we can be. And in turn, when we need to be more relaxed and sleep, we can also better do this as the brain can switch focus more easily and undo the stress response.
Start your mindfulness practice today
Simply taking the time to sit somewhere comfortably, and focus on your breathing can help. Focus on the in breath and the out breath, and noticing where in the body you feel the breathing. You might feel it in the mouth, the throat, the chest or the stomach… but whatever you notice is right for you, right now, as you pay attention non-judgementally.
If you have more time you can spend a moment scanning through the body, top to bottom, and noticing how each part of the body feels in turn. Each time you notice the mind has wandered off and you have become distracted, that's completely normal. It doesn't matter how many times you notice this… just gently bringing your attention back is what's creating the changes in your brain and your stress response.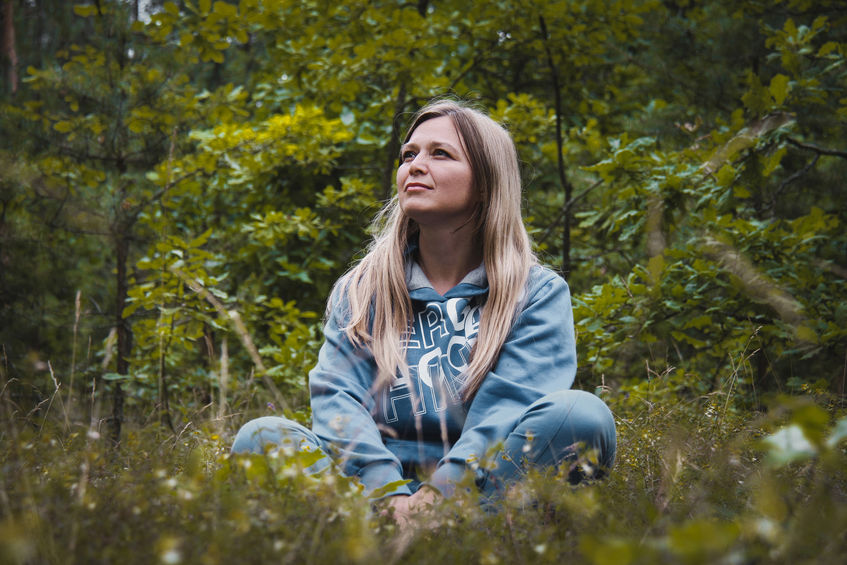 You can incorporate this into other activities you do throughout the day too, noticing what is around you when you are driving, walking or exercising, feeling the hot water and smelling the soap in the shower. Basically bringing in as many senses as you can into activities, being present to them. Focusing in on these senses in a stressful or anxious moment can really help too – you can look for things a certain colour, count things around you or simply ask what is in my five senses right now. These will all bring you into the present moment and help to override the fight or flight response, which in turn will help support the gut, our "second brain" so that it is able to function more effectively too.
About Gemma Sandwell
If you would like to find out more about how research backed methods can help you with stress and anxiety, you can get in touch with Gemma Sandwell at www.thehappinessbranch.com
Get help with your digestive system
For more information about how I can help you with your digestive system, do get in touch. You can find out more information about how I work on my One to One Consultations Page.