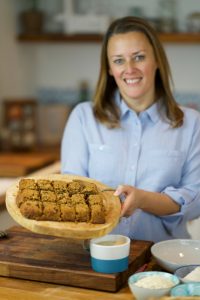 Reducing your sugar intake is no easy thing.  Sugar is highly addictive, but if you can give it just 7 days of lower sugar, you'll find your tastebuds can change pretty quickly.  Plus you might start to notice some huge benefits to your health – clearer skin, more energy, quality sleep…  and a few inches lost to name just a few.
One of my favourite ways to eat lower sugar is a healthy flapjack – packed with protein, healthy fats and fibre to keep your blood sugar levels balanced, so you're not reaching for sugary snacks an hour later (so different to the typical flapjack with tons of golden treacle!)  If you struggle to eat just one, you can make a batch and freeze them, taking out just one at a time for a delicious, energy boosting afternoon treat.
This my favourite flapjack recipe; it's low in processed sugar, packed with vitamins and minerals, rich in essential fats and iron from the seeds, with pumpkin seeds also being a great source of zinc. Also it's a great source of protein too, with the use of seeds as well as the addition of quinoa flakes.
Perfect for filling you up and keeping your blood sugar levels balanced throughout the day.
For those who need fuel and sustained energy for a long period, I think this healthy flapjack recipe really hits the mark. It's soft and chewy, tastes pretty sweet yet won't give you afternoon blood sugar swings and dips, and is much better for your health!
Seedy apricot  flapjack recipe 
Makes 14
2 tablespoons sunflower seeds

2 tablespoons pumpkin seeds

2 tablespoons sesame seeds

2 bananas

50g coconut oil or butter

2 ½ tablespoons olive oil

1 tablespoon blackstrap molasses

2 tablespoons agave nectar (or honey)

50g wholemeal flour/spelt flour/gluten free flour

100g oats (or 75g oats, 25g quinoa flakes)

100g dried apricots (unsulphured variety is best)
1. Preheat your oven to 160C/gas mark 4. Grease a 28 x 18cm baking tin and line the base with greaseproof paper.
2. Blitz the seeds in a blender, or chop using a knife. Snip or chop the apricots into small pieces. Peel and mash the bananas.
3. Melt the butter and oil in a large saucepan then add the agave nectar or honey, molasses and mix well. Take the saucepan off the rest of the ingredients. Mix everything together well then spoon into the prepared tin and level the surface.
4. Bake in the oven for about 40 minutes or until golden brown. Leave to cool in the tin for 5 minutes, before marking into about 12 or 14 bars. Once completely cool, cut into bars. These will keep in a sealed container for up to four days, or can be frozen as well.
Like this? There are lots more delicious sugar-free recipes in my 30 Day Sugar Detox including Chocolate Chia Seed Pudding, Crunchy Rainbow Coleslaw, Easy Egg Wraps, Superfood Apple Crumble and much more! Check out what's on offer here.