Here's another new recipe for all you pudding lovers out there, my quick cheat's apple crumble recipe.  The best thing is you don't have to spend ages peeling apples, so it saves so much time.  Also because it's so super healthy, you can eat this for breakfast too! A great way to use up any leftovers.
Sometimes I want a quick desert but I don't have time to peel and chop loads of apples, so I thought there must be an easy way to make a quick crumble. I love using apples in this way, because they are such an all round superfood.  Baked or stewed apples are the perfect food for your gut microbiome, and with the skins intact here, you get even more of that lovely pectin fibre.  This helps to feed all your beneficial bacteria in your gut microbiome, which is so vital for immunity, digestive health, metabolism and brain health.   
So here's my quick apple crumble… let me know what you think!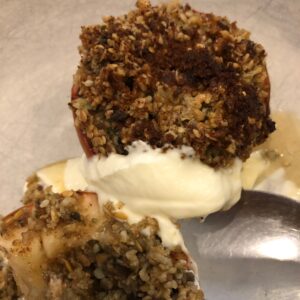 Print Recipe
Quick Cheats Apple Crumble Recipe
If you want an apple crumble but don't want to faff about peeling apples, then this recipe is ideal! Super fast, super healthy and super yummy!
Ingredients
4

Apples

,

Use 1 per adult, half per child

1

tsp

Chinese Five Spice

4

squares

Dark Chocolate

,

70%+

2

tbsp

Coconut Sugar/Dark Brown sugar

1

handful

Organic Oats

,

Large Handful

2

tbsp

Dessicated Coconut

,

Unsweetened

2

tbsp

Pumpkin Seeds

2

tbsp

Sunflower Seeds

2

tbsp

Sesame Seeds

1

tsp

Ground Cinnamon

2

tbsp

Organic Butter/Coconut Oil

1

Pinch

Salt
Instructions
Pre-heat the oven to 180°C.

Cut your apples in half through the middle and lay them out on a chopping board. Use a teaspoon to scoop out the core. Sprinkle over a pinch of five spice and pop in a square of dark chocolate. If you don't have five spice you can use cinnamon, nutmeg or all spice.

Blitz the crumble topping - I use my Vitamix or a Nutri bullet and just throw everything in and give it a good pulse. If you don't have a strong blender you can use a food processor or just bash everything up with a rolling pin between two pieces of greaseproof paper or in a bag.  

Put the apples with the chocolate on a baking tray. Press the crumble over the apples and bake for around 30 minutes. 

If the top starts to burn, cover with a baking sheet or greaseproof paper. Check the apples are cooked through by pushing in a sharp knife - they should be soft. 

Serve with some plain yoghurt, a little cream or a dash of coconut cream. Enjoy! 

This recipe also works well with pears or peaches.