Horribly Healthy Spiced Pumpkin Soup
This recipe is so super simple… and a great way to use up any leftover pumpkins.  Plus it's brilliant for supporting your immune system, as it's packed with beta-carotene rich veggies.  This nutrient is the plant form of Vitamin A, which is so supportive of the immune system, so a great way to give your immune defences a helping hand.  Pumpkins and squash are also really rich in fibre, which is great for supporting the gut microbiome, as well as providing a SLOW releasing form of carbohydrate.
Want to make a soup a filling meal? 
I love using soups for a healthy meal, but do try to add some protein to help you feel fuller for longer.  So whether it's some lentils or beans, chicken or a cracker on the side with some hummus… do boost your protein intake for a satisfying, delicious meal.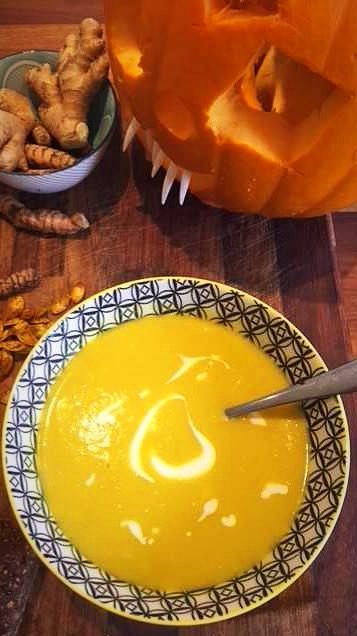 Ingredients for my Horribly Healthy Spiced Pumpkin Soup: 
1 teaspoon coconut oil
1 red onion
1 to 3 cm of fresh ginger root, peeled and chopped (how much you use depends on how spicy you like it!)
2 garlic cloves, peeled and chopped
1kg pumpkin flesh (make sure all the stringy bits have been removed)
1 teaspoon ground coriander
1 teaspoon ground cumin
1 teaspoon turmeric or 3 cm fresh turmeric peeled and chopped
1 tin coconut milk (use full fat)
1 litre chicken or veggie stock
Directions:
Saute the onions, garlic and ginger in the coconut oil for around 2 to 3 minutes until soft.  Add the spices and stir for around 30 seconds.
Then throw in the pumpkin flesh and chicken stock.  Allow to bubble for around 20 minutes until all the pumpkin is soft.  Add the coconut milk and allow to bubble for a few moments. 
Use either a hand blender or put into a blender, and blend until smooth.  Check seasoning, add salt and pepper if needed.
If you want to make this more of a hearty meal, add a handful or two of split red lentils when you add in your stock.
Serve your soup with a swirl of natural yogurt or soya cream, some freshly chopped coriander and some of my delicious spiced pumpkin seeds.