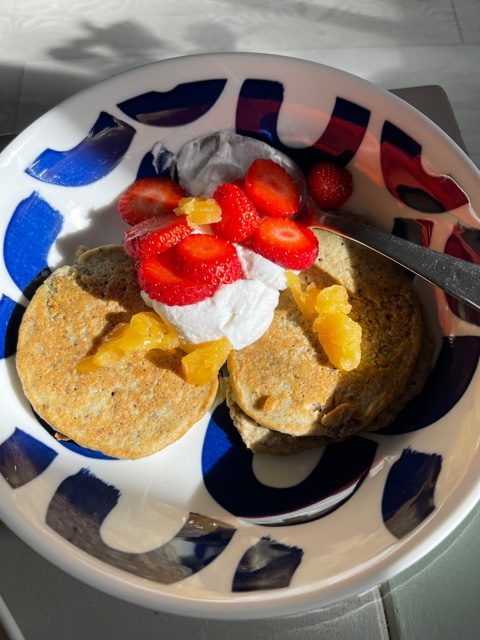 Pancakes are one of the greatest ways to get in a protein-rich, filling breakfast, that's packed with goodness.  You can hide in all kinds of amazing goodness… nuts, seeds, fruit.  You name it, you can get it in there!  But I know the thought of cooking pancakes in the morning can put some of you off, especially on hectic mornings.  So this is why I invented this recipe (and I use it ALL the time!)
I promise you, if you have a good blender like a Nutribullet, Ninja or Vitamix, this recipe can be done superfast!  Even whilst you get on top of the packed lunches!
Pancakes can come in so many different guises – from the sugar laden, ready-made pikelet type pancakes you can buy in most supermarkets, to the nutrient dense, fibre rich versions you can quickly make at home. Like with any food, it can be super healthy or super unhealthy! 
How to make super healthy pancake batter in minutes! Without any scales!
I don't use scales to make this one, and that's why it's so quick!  I know some of you really struggle when recipes are a bit vague, but go with it.  It WILL work, I promise.  
With this recipe, you're looking for a thick batter, about the thickness of Greek yoghurt or porridge. If it's too runny, add more chia or flax, and more ground almonds.  Too thick, add a bit more milk. 
Also when you pop them into the pan, don't mess about and flip unnecessarily!  Get the pan hot while you prep the batter, add a dash of olive oil or coconut oil and you're ready to go!
Sneaking in the good stuff! 
My kids love this pancake recipe, and it makes me super happy too as I'm always trying to sneak nutrient packed nuts and seeds into our diets.  But I'm finding as they get to their tween and teenage years, I'm met with eye rolls and grumpy faces when I mention nuts and seeds!  So this is the perfect solution.
When I make this recipe, I take my Vitamix jug to the cupboard, and just pour bits and bobs into it.  I've given you a rough recipe below – but get creative.  Add a banana for more sweetness.  Some blackstrap molasses or a dollop of Greek yoghurt for calcium.  Or vary the nuts and seeds!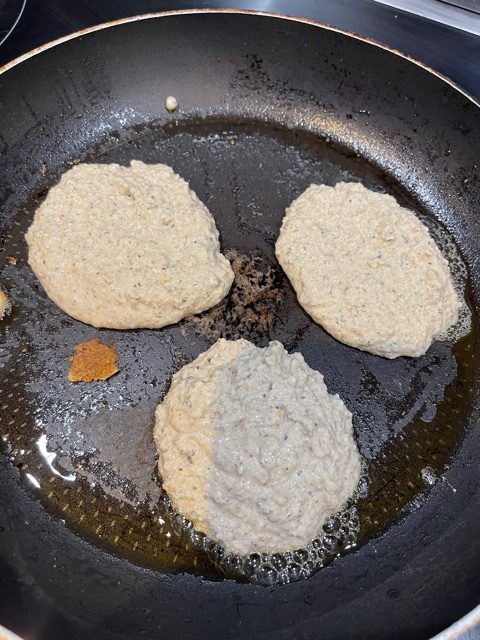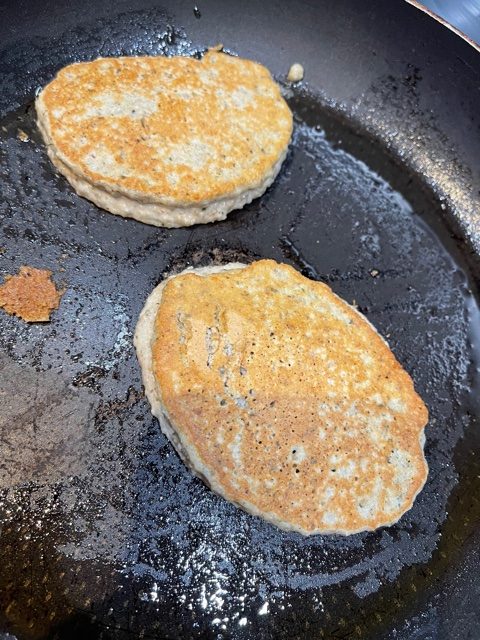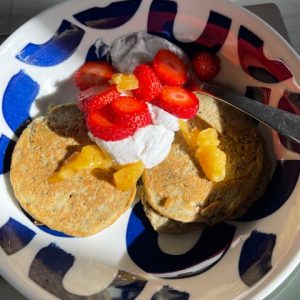 Print Recipe
Quick Protein Packed Breakfast Pancakes
These protein filled pancakes are one of the greatest ways to get in a filling breakfast, that's packed with goodness. You just need a powerful blender and make sure you use flax or chia seeds to bind the batter.
Ingredients
3

eggs

4

tbsp

rolled or jumbo oats

1

tbsp

tahini

,

Or other nut butter - I love tahini because it's rich in calcium.

6

tbsp

other nuts and seeds

,

including at least 1 or 2 tablespoons of chia or flaxseed, as these help to bind

1 - 2

tbsp

dessicated coconut

¼ to ½

cup

cashew milk

,

add slowly

½

tsp

cinnamon
Instructions
Throw everything into your blender, blitz well and allow to stand for 5 to 10 minutes so the flax or chia work their magic. 

Whilst you wait, put a heavy bottomed frying pan on a medium heat, with a tablespoon of olive oil or coconut oil. 

Drop heaped tablespoons of the batter into the pan.  Leave it until bubbles appear on the top, and it's easy to flip.

Flip over and press down gently with the spatula so it cooks through. 

Serve with fruit, yoghurt, maple syrup, dark chocolate shavings or whatever you love on your pancakes!