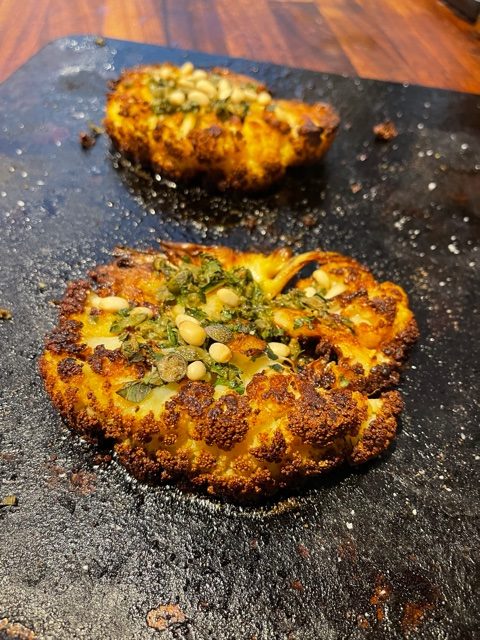 I'm a new convert to cauliflower steaks, but this recipe ticks all the boxes for me!  I always thought I didn't really like cauliflower – I think it goes back to my school lunch days, and memories of soggy, overcooked mush! Plus many years as a vegetarian in the early days of plant based eating, when the only option was soggy cauliflower cheese!  But roasting cauliflower with warming spices is a revelation! It brings out such a delicious and natural flavour that is truly sensational.
I put these cauli steaks with some organic meat, fish, pulses or just a poached egg on top, with lots of steamed vegetables or a salad on the side.  They are also delicious with a crumble of feta, with your Sunday roast or a big dollop of hummus!
Why am I such a huge fan of cauliflower? 
Cauliflower is one of the cruciferous family of vegetables, which is so beneficial for your health in so many ways.  
Firstly these are such incredible veg for hormone balance, helping to support our liver detoxification pathways that help to clear and break down excess oestrogen.  This is important for both women AND men.  Yep, men have oestrogen too, and it also needs to be cleared in a healthy way.  If we're not able to metabolise and clear our oestrogens in a healthy way, we are more susceptible to free radical and DNA damage in our cells, which could lead to an increased risk of oestrogen dominance (including oestrogen dominant cancers). (If you want to find out more about how your body clears oestrogen, I often use the DUTCH test in my clinic.  The Dried Urine Test for Comprehensive Hormones shows us not only how much oestrogen you make, but how good you are at breaking it down and clearing it in a healthy way. 
Cruciferous veg are also a fantastic source of fibre, to help feed a healthy gut microbiome, plus they contain compounds which can help to protect our cells from free radical damage, and help to make glutathione.  This is one of our key detoxification compounds and a potent antioxidant.
Finally did you know that cauliflower is also a rich source of Vitamin C?  Eaten raw, blitzed up into cauliflower rice, it makes a delicious salad.  Check out my zesty citrus cauliflower recipe here.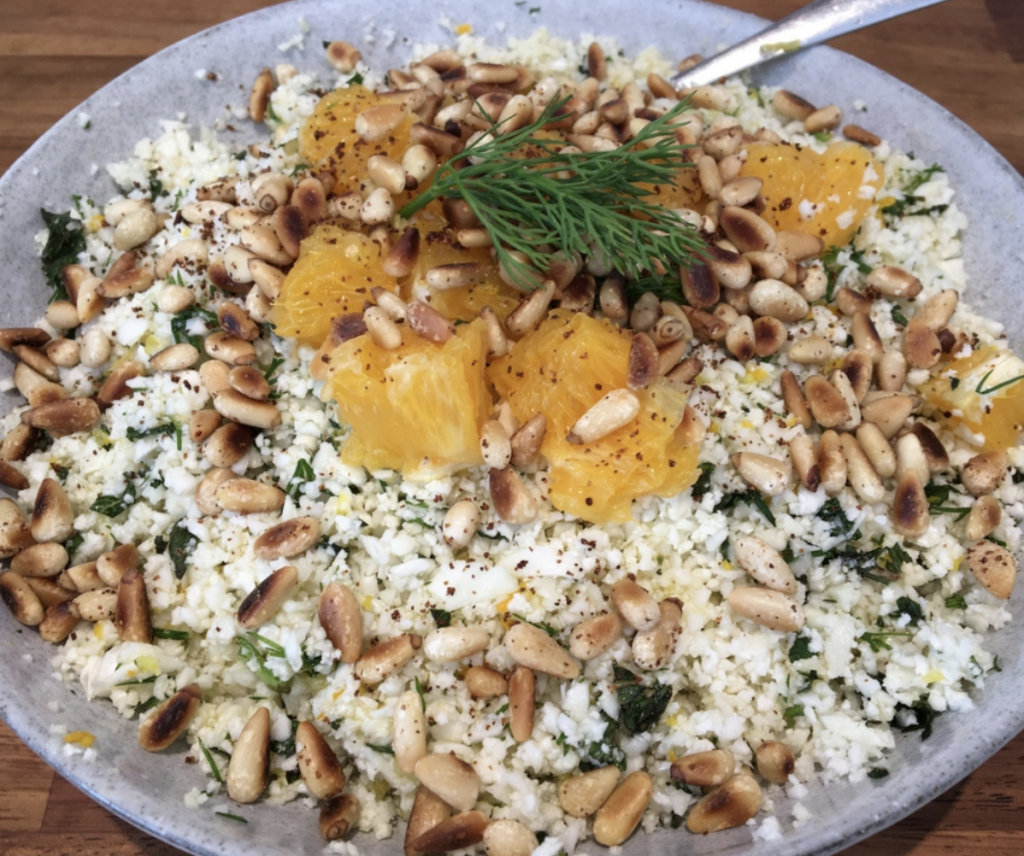 How much cruciferous veg should I eat daily?
Ideally, we should eat 1 to 2 handfuls of brassica and cruciferous veg daily.  This includes broccoli, kale, cauliflower, cabbage, bok choi, chard, spinach, sprouts.  But if you react to higher FODMAP foods beware, because these are high fodmap foods.  Also if you have an under functioning thyroid (hypothyroidism) don't eat them raw, as this can inhibit thyroid function. Cooked is fine – roasted, steamed, added to soups and casseroles.  
I hope you enjoy my Zingey Roasted Cauliflower steak recipe!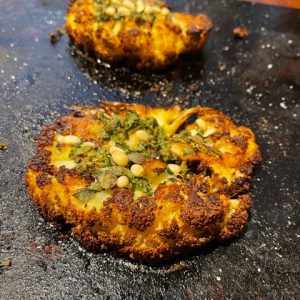 Print Recipe
Zingey Roasted Cauliflower Steak Recipe
A warming cauliflower steak recipe, roasted with spices, pine nuts, capers and fresh herbs.
Ingredients
1

head

Raw Cauliflower

1

tspn

Ground Cumin

1

tspn

Smoked Paprika

2

tbsp

Pine Nuts

1

handful

Fresh Parsley

,

Flat Leaf

1

handful

Fresh mint leaves

,

finely chopped, stalks removed

1

tbsp

Capers

,

finely chopped

1

tbsp

Olive Oil

,

Extra virgn

1/4

tspn

Sea salt

1/4

tspn

Black pepper

,

Freshly ground
Instructions
Preheat the oven to 220C. 

Take the outer leaves off your cauliflower. Slice through the head and stalk, creating 1 inch thick cross sections through the cauliflower. Don't worry if a few florets come loose, just hold them together as best you can. Lay your sliced cauliflower steaks on a greased baking sheet.

Sprinkle with the spices, a drizzle of olive oil, salt and pepper. Rub the spices into the cauliflower, turn over and repeat the other side. Place in the oven for about 15 minutes. 

Meanwhile, take the leaves off the herbs, chop them up with the capers and mix together. 

After about 15 minutes, once the cauli steak is becoming toasted and golden, carefully flip it over. Bake for a further 10 minutes. 

For the final 5 minutes, sprinkle over the mint, parsley and capers, and the pine nuts. Bake for 5 minutes, checking to make sure they don't burn.