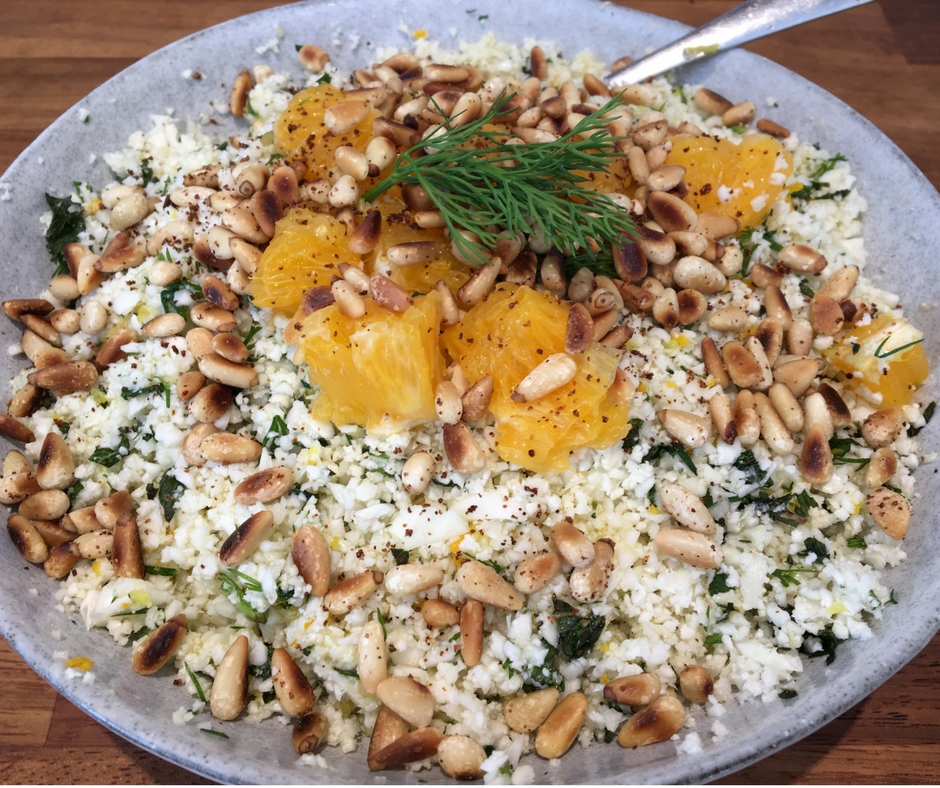 It's been a very veggie focused week here at FNE HQ! After getting several requests, I've added a delicious new vegetarian meal planner to my 30 Day Sugar Detox online program.
As you might imagine, I've been doing a fair amount of recipe testing and I think I just might have stumbled on my best recipe for Cauliflower Rice yet!
I'll be honest; cauliflower and I have never had the best relationship.  I was a vegetarian for about 15 years, from the age of 11 to my mid 20s, and I think those were the days when the only veggie option on a menu when we ate out was cauliflower cheese. 
And it often came out really soggy and full of very strong cheese, which I've since learnt doesn't actually suit my digestive system! 
 My kids and my husband are also not big fans of cauliflower, but it's such a great superfood; it's also really cheap and I know loads of people love it.  So I've ploughed on… experimented, tested, tasted, and finally this recipe seems to be a winner, at least with me and my hubbie! 
 I love cauli rice, because it's a great way to substitute rice if you're looking for a nutritious grain-free or low carb meal.  Even if you're not on a low carb diet, it makes a brilliant salad and you can add things like sweet potato wedges or roasted butternut squash for extra carbs.
You can buy cauli and broccoli rice in most supermarkets now, but I like to make it myself.  It tastes SO much better (believe me, I've tried) and also it's much fresher, and richer in Vitamin C and all those amazing phytochemicals which makes cauliflower an all round superfood.
To make cauli rice, just take out the big stalk, break up the florets, put them in your food processor and pulse to make grains.
Don't put it in a nutri bullet or similar, or it will turn it into smoothie!  You want an s-blade food processor or similar.  In this recipe I use cauli rice raw, but it's also really delicious if you add some seasoning, turmeric, cumin, garlic and onion powder, and then spread onto a baking sheet and bake in a low oven for about 20 to 30 minutes.
 Let me know what you think – the zesty flavour is really good I think!
Cauliflower Rice Recipe
Ingredients
1 head of cauliflower, big stalk removed
4 tablespoons of extra virgin olive oil
1 handful of freshly chopped mint leaves
1 handful of freshly chopped coriander leaves
Zest and juice of 1 lemon
Zest and juice of 1 orange, plus extra orange segments
2 tablespoons of pine nuts
Salt and pepper.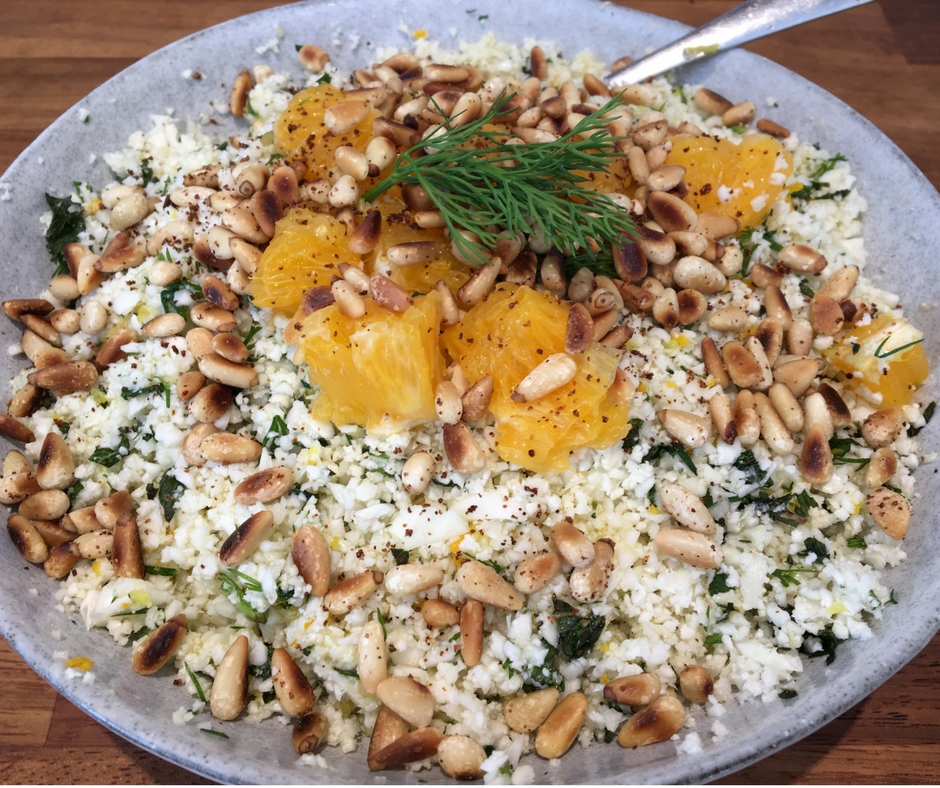 Method
Talk the stalk out of the cauliflower and keep for soups.  Put the florets into a food processor and pulse until you get a rice like grain.  
Tip the cauli rice into a bowl, and season well with salt and pepper. Stir in the olive oil, mint, coriander, zest and juice of 1 lemon and 1 orange.
Check your seasoning – add extra if needed.
Put a dry saucepan onto the heat – add the pine nuts and gently toast, making sure they don't burn. 
Peel and slice another orange.  Place around  the salad, and sprinkle with the toasted pine nuts. 
Serve with your favourite protein accompaniment – chicken, fish, beans… whatever you wish!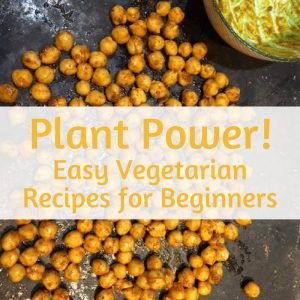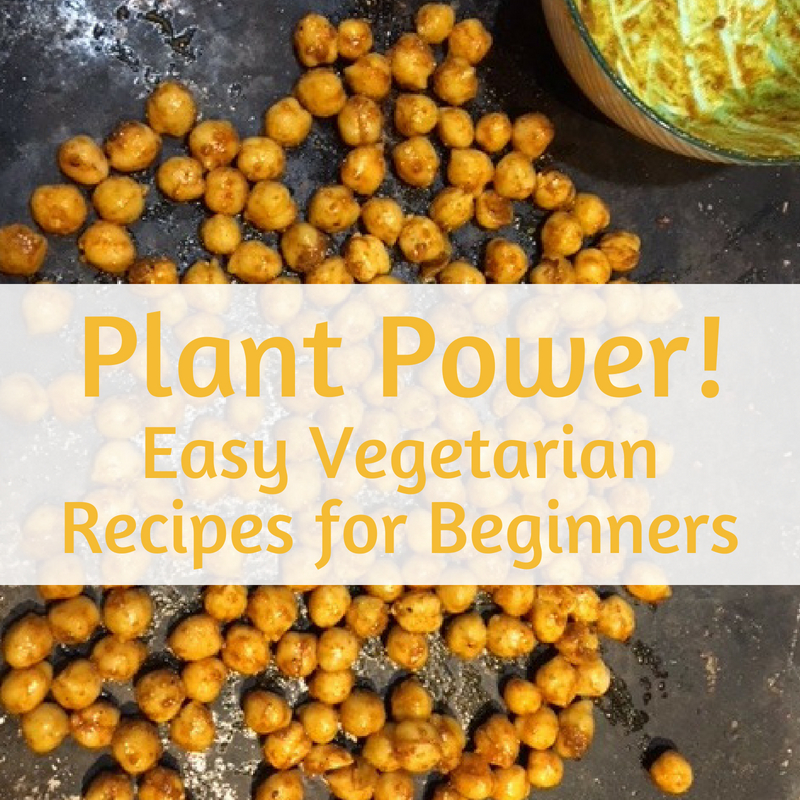 Are you curious about the benefits of a vegetarian or vegan lifestyle? If you fancy trying out a few meat-free meals before making a proper commitment I have the perfect way to dip your proverbial toe into a plant-based diet. Sign up for my totally FREE Plant Power 5-day Challenge and I'll send you the first recipe straight away!