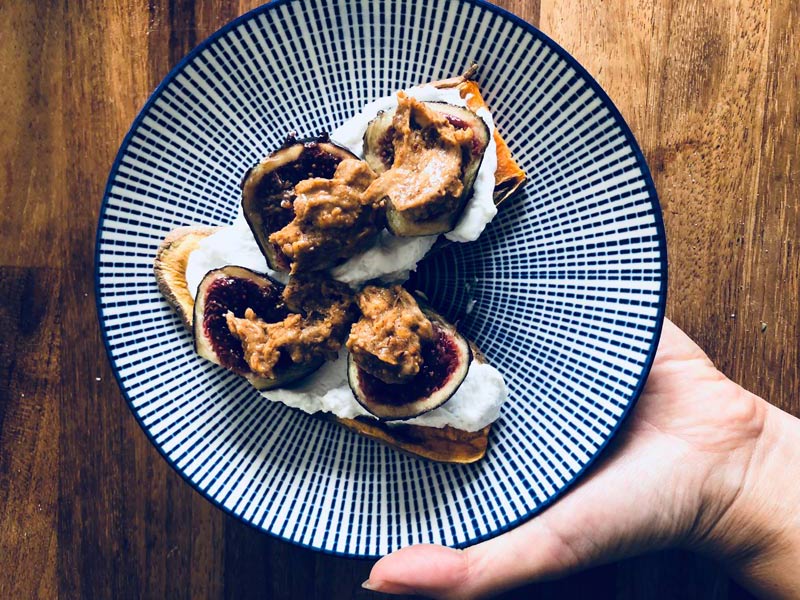 Can you really make sweet potato toast in the toaster I hear you say? Yes you can!
Fancy a snack that has that excellent combination of warm, cold, crispy, soft, creamy and crunchy? Step forward the sweet potato toast topped with your favourite flavours. 
Why Sweet Potato is so good for you 
How I love the humble sweet potato! Being anti-inflammatory in nature, sweet potato is rich in vitamin A and vitamin C which makes it wonderful for your skin. Plus they are a great alternative to help you reduce sugar and white carbs and help out your gut.
Sweet potato is the perfect, gluten free comfort food that's slow releasing and packed with goodness. Just make sure you get those slices pretty thin (no more than 3 to 5mm) and be prepared to give it a couple of goes in the toaster.
So what do you need to make this delicious snack? 
A simple sweet potato, a toaster or grill, and all the delicious toppings you can think of…
Sweet potato toast recipe 
Ingredients: Serves 2
1 Medium Sweet potato
4 tablespoons of Plain Coconut Yoghurt or Plain Greek Yoghurt
1 tablespoon of almond butter
A dash of boiling water
Pinch of cinnamon
1 teaspoon maple syrup (optional)
Other toppings: 
fruit like blueberries/figs/strawberries/stewed apples 
crunchy bits like flaked almonds, cacoa nibs, hemp seeds, flax or chia seeds, dessicated coconut, pumpkin seeds
Dietary alternatives
For a nut free version, use sunflower seed butter or tahini, and Greek yoghurt or plain soya yoghurt instead.
Directions:
Trim the pointy ends off the sweet potato and then lay it on a cutting board. Put your hand flat on top and slice it lengthwise into thin slices – about ½ cm. I like to take the skin off, but you can leave it on. 
Place the sweet potato slices into the toaster and toast 2 to 3 times (depending on your toaster settings…) until golden brown and cooked through. If you don't have a toaster, you can put under the grill for a few minutes each side.
Meanwhile, mix the almond butter with the maple syrup and a dash of boiling water. Keep adding the water until you get the consistency you want – I like mine in dollops, but if you add more water you get more of a drizzling consistency.
Once the sweet potato has cooled a little, add the yoghurt to each slice. Top with some fruit, drizzle or dollop your almond butter, sprinkle with cinnamon and your favourite toppings.your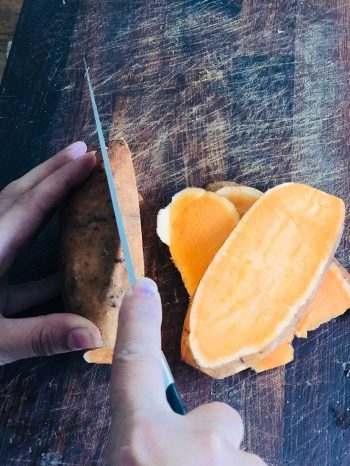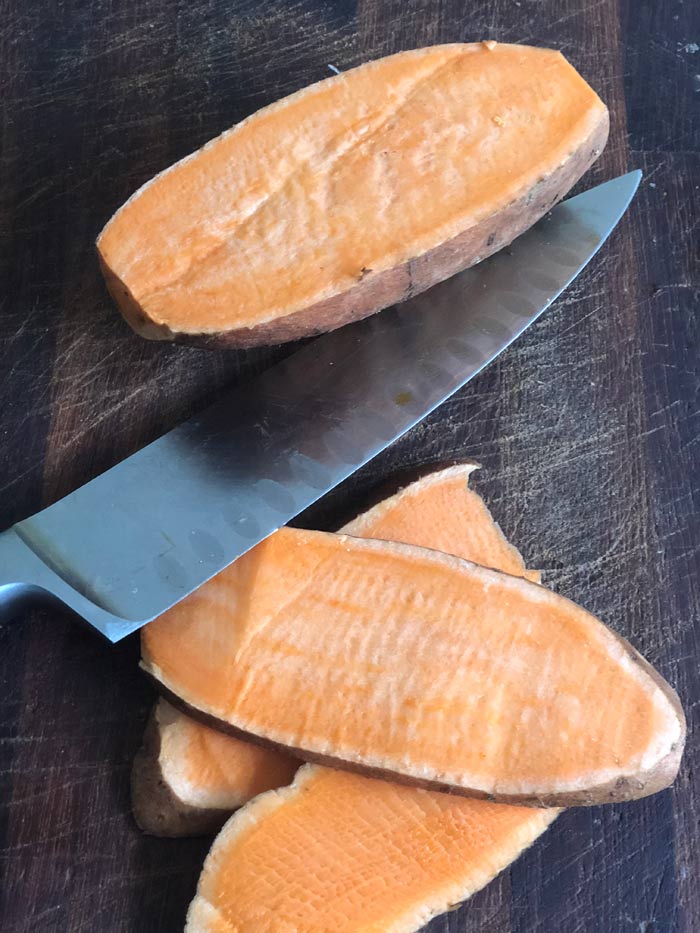 Try and cut evenly because I found the edges crisp up where thicker bits need a bit more toasting!
When your sweet potato is golden brown, crisp at the edges and soft in the middle, you're ready to get creative with your toppings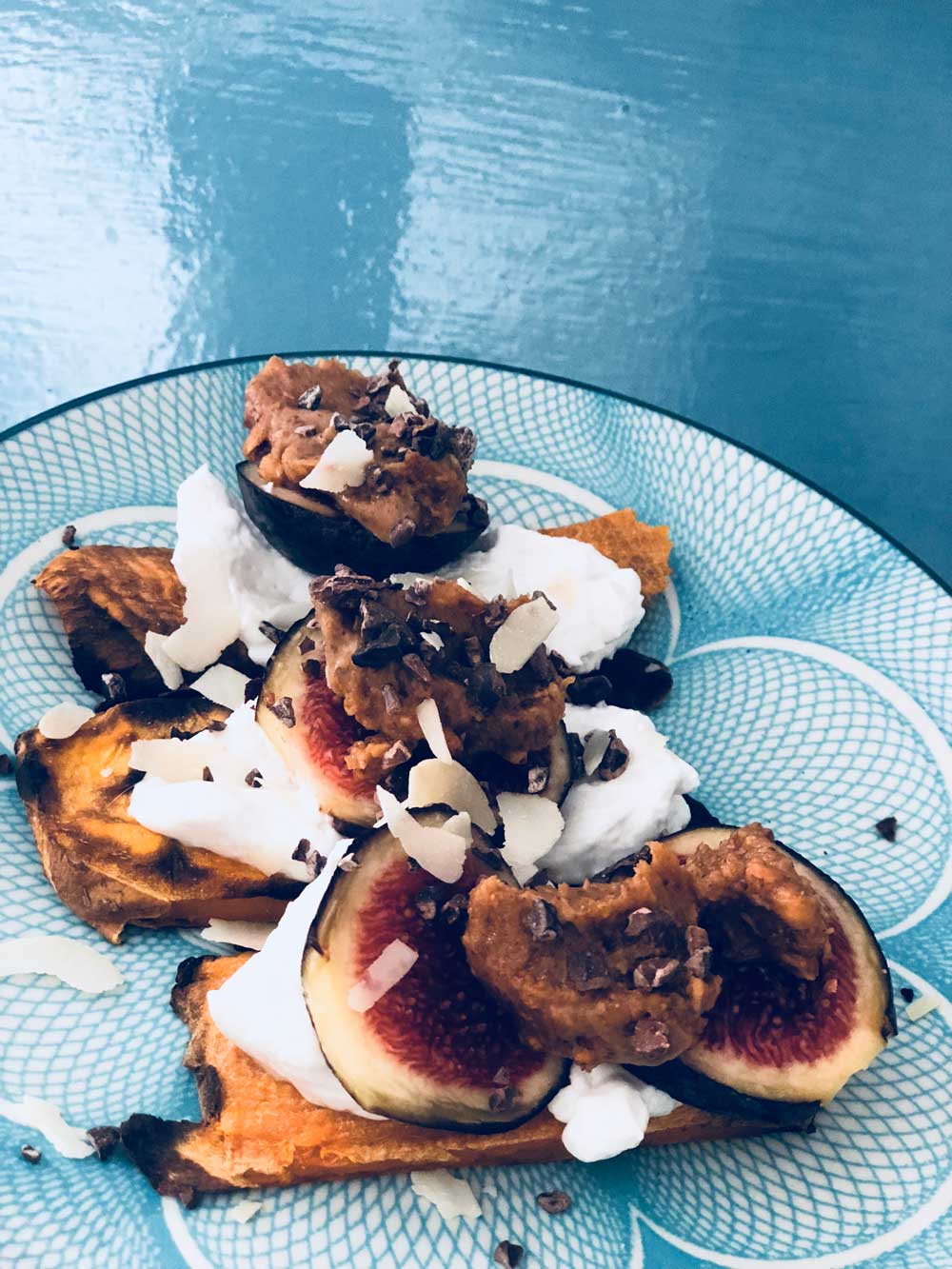 The best bit about this recipe is that it's ready in as long as your toaster takes – perfect for a fast breakfast or afternoon snack. I love fast food!
I'd love to see your sweet potato toast combinations, so let me know on Facebook, or tag me on Instagram and show me what you created.
_______________________
Would you like to learn more about how to Eat Well for Life and Lose Weight Long Term?