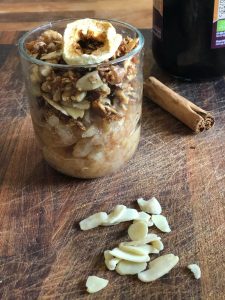 No bake apple crumble:
This is the perfect topping to go onto any type of stewed fruit – and best of all it doesn't even need to go into the oven. You can eat it raw – even better just 5 mins in a pan to gently toast it. (It's easy to stew apples or pears – just peel them, take out the core, chop into small pieces – for around 6 apples, you'll need about a teaspoon of cinnamon, a pinch of nutmeg/all spice. Plus half cup of water – mix all together in a pan, cover with a lid or piece of grease proof paper, put on low heat for 12 to 15 mins until fruit is soft, and when you stir it breaks down into a mush. You can freeze in small portions or keep in fridge).
Ingredients for the topping:
1 tbspn coconut oil (or soft butter)
1 teaspoon blackstrap molasses or honey
2 tbspns dessicated coconut
2 tbspons flaked almonds
5 walnuts – broken into smaller pieces or chopped
½ teaspoon cinnamon
1 tbspn rolled oats
Method:
Put the coconut oil and molasses/honey into a bowel. Mix together.
Add the rest of the ingredients, stir well to coat all the ingredients.
Put the mixture into a frying pan on a medium heat, spreading it out into a single layer. Allow it to gently toast (careful it doesn't burn) – it should take around 5 minutes.
Put your stewed fruit into a bowl or glass (cold or heated). Put the topping on, you can also add a layer of yogurt. Enjoy!