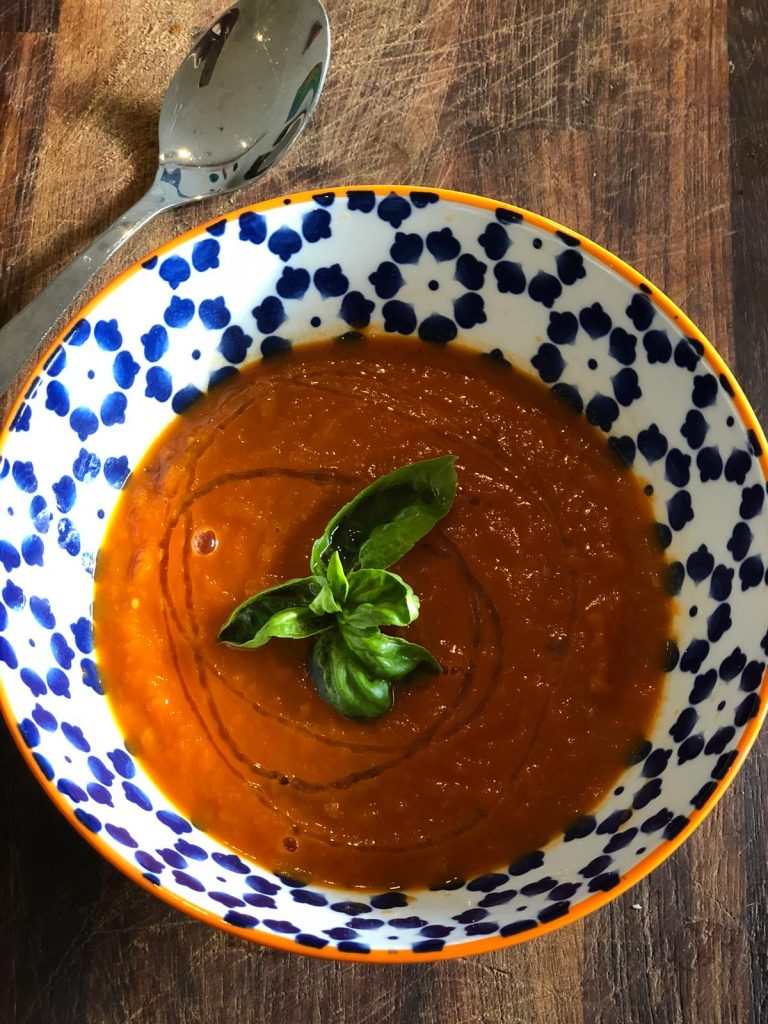 There's nothing like a chunky warming tomato soup to warm you up.  
But the problem is that most shop bought varieties of tomato soups (and even many recipes you cook at home) are laden with sugar.  I know a little bit of sweetness can help to bring out the tomato flavour… but who needs 4 to 6 teaspoons per serving!  No thank you Heinz!
So is it possible to make a delicious tomato soup without sugar!  I say yes! 
This recipe has absolutely no sugar (except the natural sugars in the vegetables), and uses 3 different types of tomatoes – tinned, fresh and purée – to help ensure you're getting plenty of the antioxidant, lycopene. If you like your soup more creamy, just add a bit of milk or drizzle over some yogurt when you serve.
Ingredients:
1 red onion, finely chopped
2 celery sticks – chopped up
2 medium carrots – chopped
2 garlic cloves, finely chopped
1 tablespoon olive oil
Pinch spicy paprika or cayenne
2 tbspn tomato purée
1 vegetable stock cube
Hot water
1 tin of chopped tomatoes
500g of fresh vine tomatoes
2 bay leaves
Black pepper
Small handful of basil, finely chopped
Good quality olive oil to serve
Directions:
Finely chop the onion, celery, carrots and garlic clove.
Put 1tbspn of olive oil into a large pan, allow to heat. Add in the veg, and stir well – allow to cook through for around 10 minutes, until really soft and translucent.  Keep on a medium to low heat, and stir regularly to ensure they don't burn.
Add in a pinch of paprika, stir in the purée. Then add the tin of chopped tomatoes, and fill up the tin again with hot water and pour this in. Crumble in the stock cube, add the bay leaves and some freshly ground black pepper.
Roughly chop the tomatoes and add these.  Allow to simmer gently for around 20 minutes. Take off the heat and allow to cool for around 5 minutes. Then blend with a hand blender, or put into a liquidiser in batches to purée.  Check seasoning, add more salt/pepper if needed.
Serve with a drizzle of olive oil, the basil sprinkled on top. Nice also drizzled with plain yogurt.