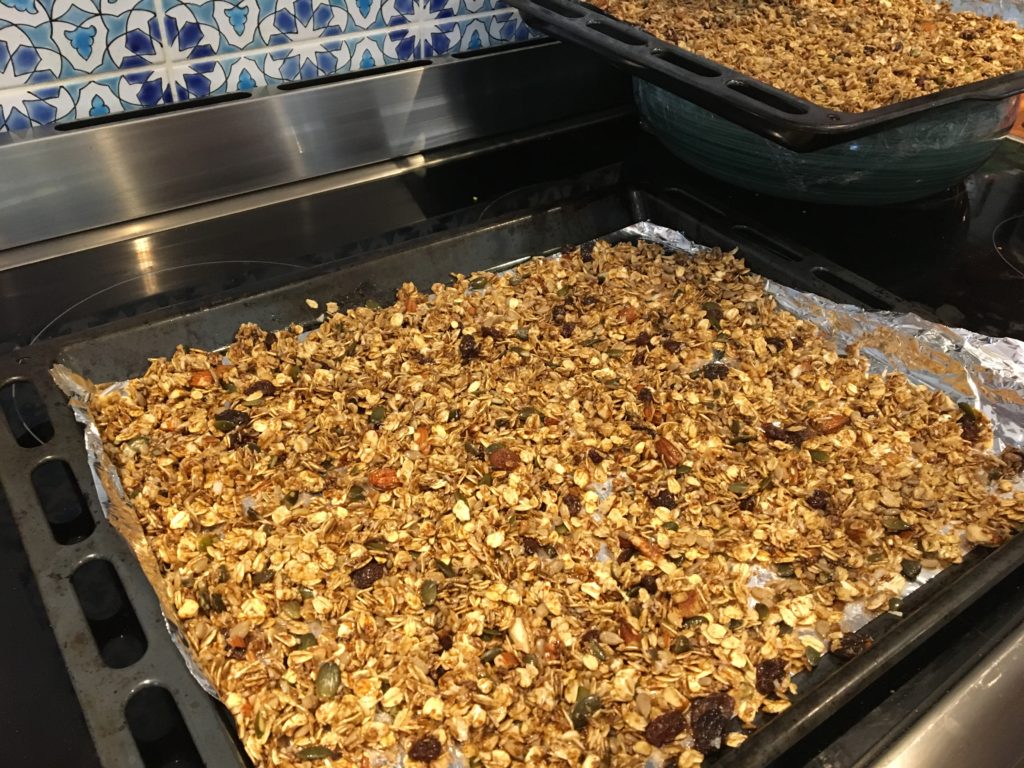 Granola is a great breakfast – usually packed with lots of nuts, seeds and oats, providing slow releasing energy and goodness. But many of the ones you buy in the shops are full of sugar (including too much honey). This home-made version is easy to do, and also much cheaper than the artisan granolas you can buy. My kids love it… and I hope you and yours do too! 
There's nothing more delicious than the smell of a freshly baked batch of granola.  If you make a super healthy one like this – you can also use it as a tasty dessert, sprinkled over yoghurt or some stewed fruit, or just on a lovely fresh, fruit salad. 
My top tips for a healthy granola: 
Make sure you use unrefined, rolled or jumbo oats.  The instant, refined oats don't have so much fibre or goodness. 
Add some blackstrap molasses if you have it – it's such a great source of iron and calcium.  You can get this from most health food stores. 
Add lovely spices such as cinnamon – which may help to balance blood sugar levels. A natural way to sweeten and add flavour. 
Always add nuts and seeds for extra protein and healthy fats.  I like to put in pumpkin seeds for zinc, plus sunflower seeds for magnesium.  You could also add some Brazil nuts for added selenium. 
Vary your grains – you can also use other grains such as buckwheat and quinoa, which you can buy as flakes from health food stores.  Use half oats, and half mixed other grains.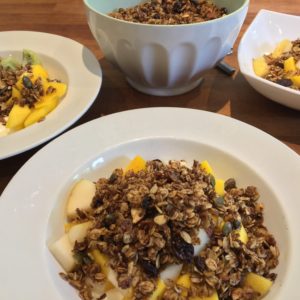 Print Recipe
Home made power granola
One of my favourite recipes for a power packed breakfast... delicious, nutritious, full of protein and healthy fats, plus it's low in sugar.
Ingredients
2

tbsp

blackstrap molasses

6

tbsp

coconut oil

2

tbsp

maple syrup or honey

350

g

oats

,

rolled or jumbo, not instant

50

g

dessicated coconut

,

unsweetened

50

g

pumpkin seeds

50

g

sunflower seeds

75

g

almonds or pecans

,

Or mixed nuts

1

pinch

salt

1

tsp

ground cinnamon

1/4

tsp

all spice

50

g

chopped dried fruit

,

eg raisins, unsulphured apricots
Instructions
Melt the coconut oil, molasses and maple syrup in a pan over a gentle heat. Let it cool a little.

In a large bowl, mix together the dried ingredients (oats, coconut, nuts, seeds, cinnamon, all spice, salt). You can add the dried fruit here, but it does go a little crispier in the oven. If you want to keep your fruit softer, then add it afterwards.

Pour over the wet, melted ingredients. Stir well... then spread out onto a greased or lined baking sheet, and put in the oven at 150C for around 15 minutes.

Watch it – as it can burn suddenly. After 15 minutes, give it a good stir and spread out again. Bake for another 15 minutes, check to see if it's crispy. It can take up to 45 minutes... just keep checking. It should be fairly crispy, and a little bit toasted.

Cool before serving and storing. You can keep in an airtight container for up to 2 weeks.
This is really nice served with some plain natural yoghurt – either have a good handful of granola and a little yoghurt, or have lots of yoghurt, some fruit and sprinkle the granola on top!