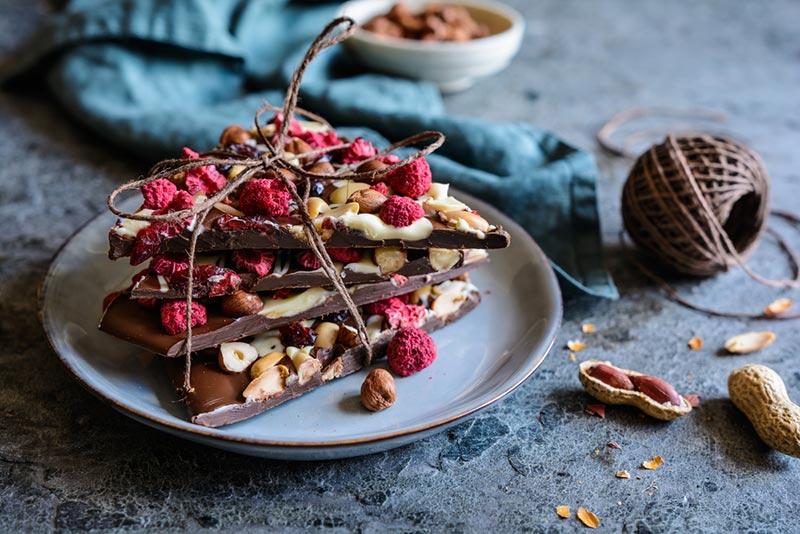 Superfood Chocolate Bark Recipe… embracing the goodness of dark chocolate!
Well, by now you all probably know that I love chocolate! And I'm always trying to find ways to use chocolate in a healthier way! But you might not have realised, that there's actually a lot of great stuff in chocolate, especially the dark variety (as long as you don't eat too much!)
A lovely Christmas Gift!
Chocolate bark is one of my Christmas favourites… a brilliant way to encourage family and friends to eat darker chocolate, mixed with lots of superfood goodness. This year I'll be making some as presents, and also post Christmas it's a great way to use up any excess chocolate and make it into something even healthier.
The benefits of dark chocolate
So chocolate comes from cocoa pods… which are really rich in polyphenols: potent plant chemicals which have antioxidant properties and may even help to feed our gut microbiome (yes they love cacao too!).
The darker the chocolate, the less sugar and higher concentration of cacao it has, making it higher in polyphenols.
There have been a lot of studies into the health benefits of dark chocolate and cacao, and research has suggested that it may help reduce our risk of cardiovascular problems, lower cognitive decline and may even lift our mood.
Dark chocolate and cocoa powder is also rich in key essential minerals, particularly magnesium, molybdenum and even iron.
So it is an all round superfood… and I use cacao a lot in my every day cooking, from making porridge to smoothies, baking cakes to sprinkling over yoghurt. 
Your kids turn their nose up at dark chocolate?
My kids are used to that richer, stronger taste because that's what I've always given them. If your kids are hooked on the sweeter and less bitter taste of milk chocolate, get them used to it slowly. Use dark cacao mixed with cinnamon, orange zest and vanilla for extra sweetness, and mix some dark chocolate buttons into their milk ones and see if they eat them.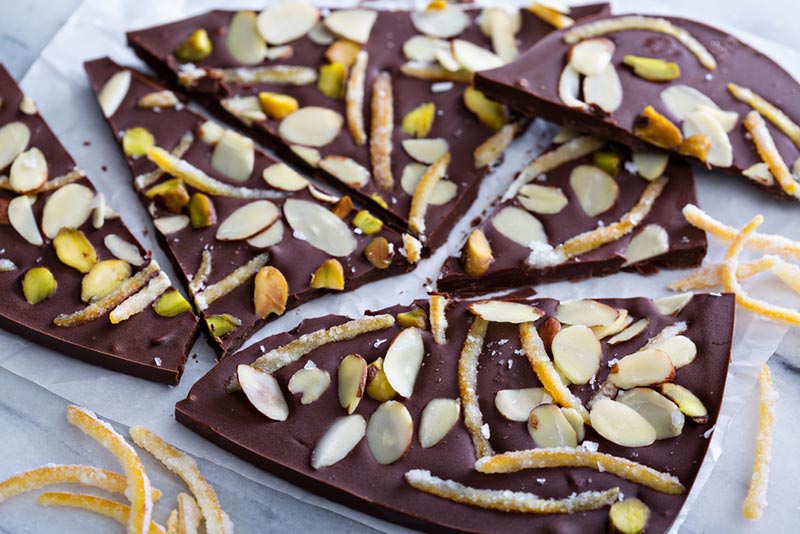 Is raw chocolate and raw cacao better?
You may have seen raw chocolate and raw cacao powder popping up in supermarkets and health food stores around the country. With raw versions, this means it hasn't been heat treated, which means that some of the nutrients and polyphenols may be more intact… so if you can go raw, it might be better!
You can also have a go at making your own raw chocolate, using cocoa butter, dark cacao powder and natural sweeteners such as honey or maple syrup.
What type of chocolate for this recipe?
When I make chocolate bark, I always use 70% dark chocolate, or sometimes 80 or 90%. Especially if I'm adding a bit of dried fruit, as this helps to sweeten. If I'm making it as a gift for people who aren't used to darker chocolate, I might stir in some milk chocolate as well, just to take a bit of the bitterness away. Yet I'll still be looking for better quality, 50% milk chocolate.
Do look at what goes into the chocolate you're buying. Is it full of preservatives, e-numbers and ingredients you don't recognise? It should just be 4 or 5 ingredients. Can you get organic chocolate? This may help to support local fair trade and preservation of local environments.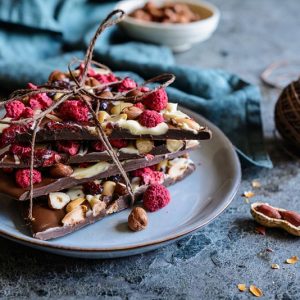 Print Recipe
Christmas Superfood Chocolate Bark
Chocolate bark is one of my Christmas favourites... a brilliant way to encourage family and friends to eat darker chocolate, mixed with lots of superfood goodness. 
Ingredients
1

bar

dark chocolate

,

Minimum 1 large bar (200g+)

1

tsp

vanilla extract

80

g

white chocolate

,

if you want to add superfood powders
Superfood toppings - Choose what you like
Seeds

,

pumpkin seeds are rich in zinc

Nuts

,

almonds are packed with nutrients that may help to balance your cholesterol

Sea salt

,

just a sprinkle really enhances the flavour of dark cocoa powder

Chilli

,

if you've never tried chilli chocolate, give it a go. It's quite an experience!

Dried fruit

,

raisins and chopped dried apricots are packed with iron and fibre; goji berries are full of immune supporting antioxidants

Desiccated coconut

Cranberries

,

perfect for supporting your kidneys and bladder health

Crystallised ginger

,

for a spicy hit that may support stomach health
You can also add superfood powders, by mixing them into melted white chocolate.  This helps to add amazing colours too!  I love acai berry powder or baobab powder, which are both suitable for kids and great for support immunity.  Or for grown ups, how about some green matcha for liver and gut microbiome health, or Maca for stress relief.  
Instructions
Line a baking sheet with greaseproof paper. 

Break up the dark chocolate into a bowl and add the vanilla.  If you want to make it more Christmassy, you can also add a pinch or two of cinnamon. If you want to sweeten your dark chocolate, you can also add in 20% milk chocolate. 

Either microwave in 30 second intervals and keep stirring until melted.  Make sure it doesn't burn.  Or you can heat over a saucepan of boiling water, stirring well. 

If you're using white chocolate, melt this separately, and once cooled, stir in one of the superfood powders.  Or do different small bowls of white chocolate and create different superfood coloured drizzles.

Once melted, pour your dark chocolate onto the baking sheet.  Tip the tray until it's spread out as you wish.

Sprinkle over your superfood toppings.  You might like to divide your chocolate up into 4 areas with different toppings.  If you're using superfood white chocolate swirls, drizzle these over last. 

Put into the fridge or freezer and allow to set.  

Break up the bark into large pieces and store in an airtight container. 

If you want to make Christmas presents, put the pieces onto a piece of greaseproof paper or into compostable bags, and tie up with Christmas string and home-made labels.