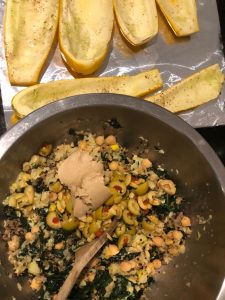 This is a great vegetarian recipe that's packed with protein, iron and healthy fats… and a great way to use up any leftovers you have in the fridge. You can mix any leftover veg into the mixture, or any leftover green herbs. Super quick and super tasty!
Are there any recipes you'd like to see on my blog?  Then get in touch with me here. 
Ingredients for Stuffed Courgettes (serves 4):
4 medium to large courgettes
1 large handful of organic kale or spinach
1 teaspoon olive oil or coconut oil
3/4 cup of cooked grains – quinoa or brown rice
½ tin of chickpeas – drained and rinsed
salt and pepper to season
3 tablespoons of chopped olives
1 heaped tablespoon of tahini (light tahini is milder in flavour)
1/2 teaspoon of zatar or sumac
1 teaspoon lemon zest
Optional: 3 tbspn feta or goats' cheese
2 tablespoons of wholemeal bread crumbs, 2 tablespoons of flaked almonds
1 teaspoon of olive oil •
Fresh mint, coriander chopped
Method
Preheat oven to 180C.
Slice the courgettes length ways and scrape out all the flesh, leaving about a ½ cm gap around. Sprinkle the courgette boats with salt and pepper, drizzle with a dash of olive oil, place onto a baking tray and bake for around 10 minutes.
Heat a teaspoon of olive oil or coconut oil in a pan and add in the courgette flesh, with a couple of large handfuls of chopped kale or spinach. Stir well until cooked through. Add the mixture to a large mixing bowl, with the cooked quinoa or brown rice, chickpeas, plus the tahini, chopped olives, zatar or sumac, plus some salt and pepper to season. For vegetarians, you can also crumble in some feta or goats' cheese but hold a little back to put on top of the stuffed courgettes.
Take the courgette boats out of the oven. Spoon the mixture into each courgette boat, heaping it up into a mound inside. If you have any mixture leftover, you can spoon it into a separate dish and bake it like you would stuffing. Nice the next day with a salad!
Sprinkle over the cheese if using, breadcrumbs and flaked almonds.  Drizzle with the olive oil.
Put the stuffed courgettes back into the oven and bake for another 10 to 15 minutes, until golden on top.  Just be careful the top doesn't get too brown!
Enjoy!
Catherine x