As the days get chillier it is well worth integrating foods to your diet that are packed with goodness!
Pumpkins are so much more than just a Halloween decoration – they are rich in beta-carotene and a good source of vitamin A.
Pumpkins also contain uniquely high levels of zinc to strengthen your immune system and help to balance blood sugar levels. Furthermore, they produce serotonin to help you feel good and unwind – perfect for these colder evenings!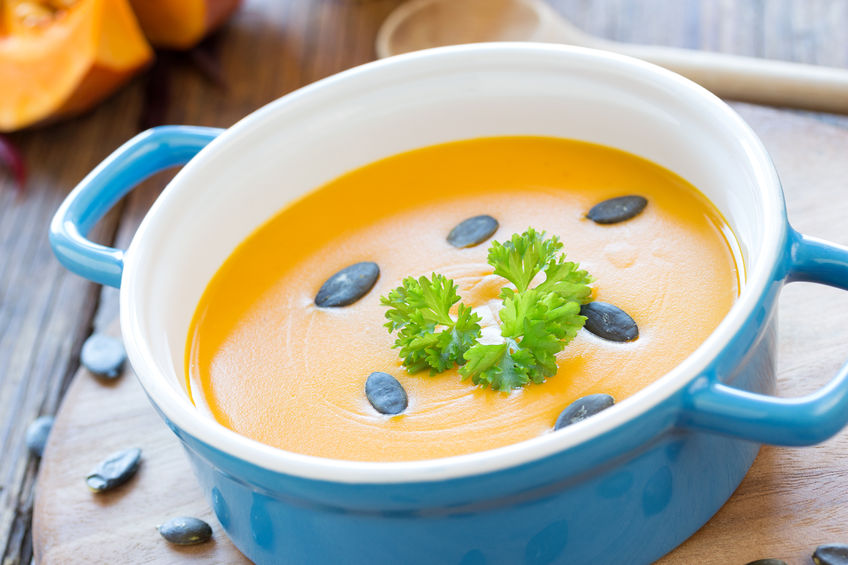 Method
Sauté a chopped onion, 2 garlic cloves and a piece of ginger (use as much ginger as you like! About 1cm for a milder flavour or 2 to 3cm if you like it spicy).
Peel and chop a large sweet potato and chop a courgette (or whatever veg you have leftover and need to use up…Broccoli, cauliflower and carrot all work well).
Add the veg to the pan, including the pumpkin, and sautée for a couple of minutes.
Add a teaspoon of turmeric, half a teaspoon of cumin and a teaspoon of ground coriander. Let the spices cook for a minute or two.
Then add some chicken stock (if you can get fresh stock it will taste better, or use your own bone broth – if not, add a stock cube with enough water to cover the veg).
Now add a tin of coconut milk, and a handful of split red lentils for protein. Let it bubble away for about 15 minutes.
Once all your veg is cooked through, pass a hand blender over it.
Serve with a sprinkle of pumpkin seeds and a slice of rye toast or granary bread!
Yum!
(You can also use butternut squash and add a bit of chilli if you like it hot!)