Feeding your children, healthy nutritious food doesn't have to be a struggle. In fact, it takes just a few simple (and sometimes sneaky) swaps.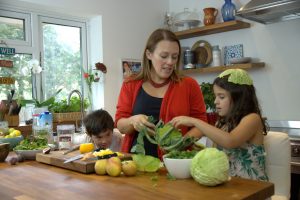 I'm here to show you how. You probably already know that I'm a fully qualified and experienced Nutritional Therapist. What you might not know is that I'm also a mummy and like you, I'm super keen to ensure that my two children grow up healthy and happy.
Children's nutrition is my passion and the reason I chose to specialise in family health. But like you, I've found that cooking healthy food for my children is one thing… actually getting them to eat it is another matter altogether!
I've dedicated years to discovering healthy alternatives to family favourites like fish and chips or pizza and hours of time to experimenting to make their favourite meals, snack and desserts that little more nutritious.
I call it stealth health and I've gotten pretty good at it!
In this totally FREE three day course I'm going to share some of those health hacks with you. I'll send you loads of ideas for breakfast, lunch and dinner and some of my children's favourite recipes too!
This isn't a sugar-free, carb-free, gluten-free, eat only salad diet for kids.
In fact I've included recipes for chocolate smoothies, pizza, muffins and even and delicious loaf cake!
It's kid-friendly food, but not as you know it!
Simply drop your email in the box below and over the next week I'll send you recipes, top tips, advice and much more!