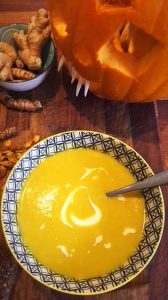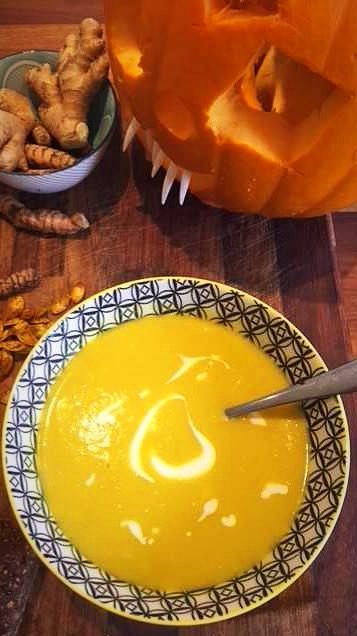 Horribly Healthy Spiced Pumpkin Soup
This recipe is so super simple… utilising the season's pumpkin bounty and ensuring no part is left wasted! Enjoy my horribly healthy curried soup recipe below.

Ingredients
1 teaspoon coconut oil
1 red onion
1 to 3 cm of fresh ginger root, peeled and chopped (how much you use depends on how spicy you like it!)
2 garlic cloves, peeled and chopped
1kg pumpkin flesh (make sure all the stringy bits have been removed).
1 teaspoon coriander powder
1 teaspoon cumin
1 teaspoon turmeric or 3 cm fresh turmeric peeled and chopped
1 tin coconut milk
1 litre chicken or veggie stock
Method:
Saute the onions, garlic and ginger in the coconut oil for around 2 to 3 minutes until soft. Add the spices, then throw in the pumpkin flesh and chicken stock. Allow to bubble for around 20 minutes until all the pumpkin is soft. Then add the coconut milk and allow to bubble for a few moments. Use either a hand blender or put into a blender, and blend until smooth. Check seasoning, add salt and pepper if needed. If you want to make this more of a hearty meal, add a handful or two of split red lentils when you add in your stock. Serve your soup with a swirl of natural yogurt or soya cream, some freshly chopped coriander and some of my delicious spiced pumpkin seeds.